LONDON, 4 December 2014 – 007 Soundstage, Pinewood Studios
James Bond Producers, Michael G. Wilson and Barbara Broccoli today released the title of the 24th James Bond adventure, Spectre. The film, from Albert R. Broccoli's EON Productions, Metro-Goldwyn-Mayer Studios, and Sony Pictures Entertainment, is directed by Sam Mendes and stars Daniel Craig, who returns for his fourth film as Ian Fleming's James Bond 007. Spectre begins principal photography on Monday, December 8, and is set for global release on November 6, 2015.
Along with Daniel Craig, Mendes presented the returning cast, Ralph Fiennes, Naomie Harris, Ben Whishaw and Rory Kinnear as well as introducing Christoph Waltz, Léa Seydoux, Dave Bautista, Monica Bellucci and Andrew Scott. Mendes also revealed Bond's sleek new Aston Martin, the DB10, created exclusively for Spectre.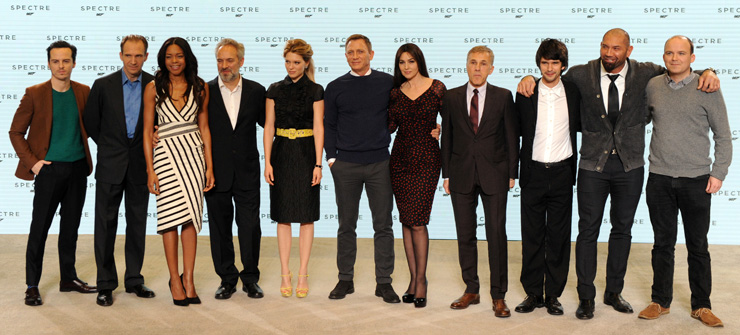 ABOVE: (L-R) Andrew Scott, Ralph Fiennes, Naomie Harris, Sam Mendes, Léa Seydoux, Daniel Craig, Monica Bellucci, Christoph Waltz, Ben Whishaw, Dave Bautista and Rory Kinnear at the launch of the new James Bond film Spectre.
A cryptic message from Bond's past sends him on a trail to uncover a sinister organisation. While M battles political forces to keep the secret service alive, Bond peels back the layers of deceit to reveal the terrible truth behind SPECTRE.

ABOVE: Spectre director Sam Mendes unveils the new Aston Martin DB10 which has been created exclusively for the film.
The 007 production will be based at Pinewood Studios, and on location in London, Mexico City, Rome and Tangier and Erfoud, in Morocco. Bond will return to the snow once again, this time in Sölden, along with other Austrian locations, Obertilliach, and Lake Altaussee.
Commenting on the announcement, Wilson and Broccoli said, "We're excited to announce Daniel's fourth installment in the series and thrilled that Sam has taken on the challenge of following on the success of Skyfall with Spectre.".
ABOVE: (top left) Monica Bellucci who plays Lucia Sciarra and Léa Seydoux who plays Madeleine Swann (top right) Naomie Harris who returns as Moneypenny with Daniel Craig who plays James Bond 007 for the fourth time in Spectre. (bottom) Dave Bautista (Mr. Hinx), director Sam Mendes, Christoph Waltz (playing Franz Oberhauser) and Andrew Scott (Denbigh) at the Pinewood Studios launch of Spectre.
Written by John Logan and Neal Purvis & Robert Wade, Director of Photography is Hoyte van Hoytema and Editor is Lee Smith. Production Designer, Dennis Gassner returns along with Costume Designer, Jany Temime and Composer, Thomas Newman. Action Specialist, Alexander Witt is the 2nd Unit Director. Stunt Coordinator is Gary Powell, SFX Supervisor is Chris Corbould, and Visual Effects Supervisor is Steve Begg.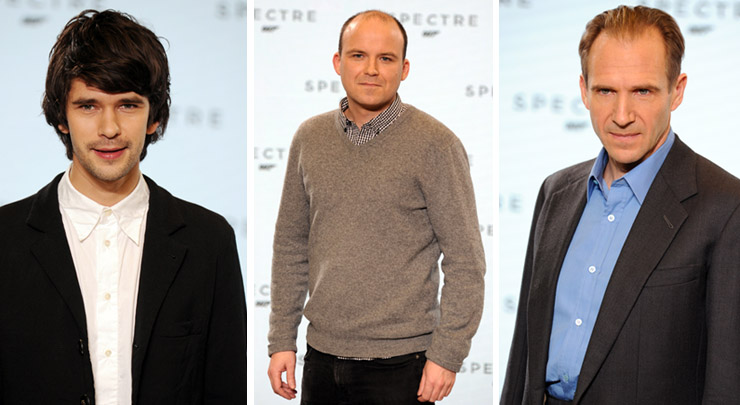 ABOVE: (L-R) The new face of MI6 - Ben Whishaw (Q), Roy Kinnear (Tanner) and Ralph Fiennes (M) all reprise their roles from the hugely successful Skyfall (2012).
Skyfall, the 23rd James Bond film, was a worldwide box office phenomenon, opening #1 in 70 territories around the world, taking over $1.1 billion worldwide and setting a new all-time box office record in the UK by becoming the first film to take over £100 million.