10 February 2020

No Time To Die Oscars TV Spot and new character posters released
A new 30-second No Time To Die TV Spot aired during the US broadcast of the 92nd Academy Awards ceremony. A second set of character posters has also been released featuring some new and returning faces.
3 February 2020

No Time To Die Official Game Day Spot
Has James Bond finally met his match? Watch the new No Time To Die US Super Bowl TV spot now!
21 January 2020

Daniel Craig and his No Time To Die co-stars tease James Bond's 25th adventure in an Entertainment Weekly interview
In the trailer for No Time To Die Lashana Lynch's British agent Nomi tells Daniel Craig's James Bond that if he gets in her way she "will put a bullet in your knee — the one that works!"

Fortunately, things were far less antagonistic when Lynch and Craig reunited with fellow cast members Rami Malek and Léa Seydoux for a chat on the day of Entertainment Weekly's No Time To Die cover shoot in December 2019. Indeed, to quote Sean Connery's 007 in Goldfinger the chemistry between the actors was "shocking, positively shocking" as they talked about the new film, their first memories of the franchise, and which Bond theme they would perform at karaoke.
20 January 2020

No Time To Die World Premiere date announced
The World Premiere for No Time To Die will take place at the Royal Albert Hall in London on Tuesday March 31, 2020. The film will then be released in the UK on 2 April and the US on 10 April.

Die Another Day (2002), Skyfall (2012), and Spectre (2015) all had their World Premiere at London's Royal Albert Hall before opening in the West End and across the UK.
14 January 2020

Billie Eilish to perform No Time To Die title song
EON Productions, Metro Goldwyn Mayer Studios (MGM), and Universal Pictures International today announced that Billie Eilish will sing the theme song for the 25th James Bond film, No Time To Die. The song will be released on Darkroom/Interscope Records. No Time To Die is in theatres globally from 2 April 2020 in the UK through Universal Pictures International and in the US on April 10, from MGM via their United Artists Releasing banner.

The 18-year-old multi-platinum selling and GRAMMY® Award nominated Billie Eilish has written the title song with her elder brother; fellow multi GRAMMY® Award nominated FINNEAS. Billie Eilish is the youngest artist in history to write and record a James Bond theme song.

"We are excited to announce that Billie and FINNEAS have written an incredibly powerful and moving song for No Time To Die, which has been impeccably crafted to work within the emotional story of the film," said Michael G. Wilson and Barbara Broccoli, the producers of No Time To Die.

Eilish said, "It feels crazy to be a part of this in every way. To be able to score the theme song to a film that is part of such a legendary series is a huge honour. James Bond is the coolest film franchise ever to exist. I'm still in shock". FINNEAS adds, "Writing the theme song for a Bond film is something we've been dreaming about doing our entire lives. There is no more iconic pairing of music and cinema than the likes of Goldfinger and Live And Let Die. We feel so so lucky to play a small role in such a legendary franchise, long live 007."

"There are a chosen few who record a Bond theme. I am a huge fan of Billie and FINNEAS. Their creative integrity and talent are second to none and I cannot wait for audiences to hear what they've brought – a fresh new perspective whose vocals will echo for generations to come," said Cary Joji Fukunaga.
13 January 2020

Hans Zimmer to score No Time To Die
James Bond Producers Michael G. Wilson and Barbara Broccoli confirmed today that composer Hans Zimmer will score the latest 007 adventure, No Time To Die.

"It's a dream come true to be working with the legendary composer Hans Zimmer on our twenty-fifth James Bond film, No Time To Die," said producers Michael G. Wilson and Barbara Broccoli. While director Cary Joji Fukunaga echoed their statement, "I'm beyond excited that Hans is scoring No Time To Die. The music of Bond has always been iconic and I've already witnessed Hans adding his touch of genius to the Bond legacy."

Hans Zimmer has scored more than 200 projects across all mediums. Most recently, Zimmer scored the live-action remake of The Lion King, which was released by Disney in July. Zimmer will compose the music for Wonder Woman 1984 set to be released by Warner Bros. June 5, 2020 and Top Gun: Maverick, the highly anticipated Top Gun follow-up which will be released in June of 2020 by Paramount. Zimmer has won an Academy Award®, two Golden Globes®, three Grammys®, an American Music Award, and a Tony® Award. Past notable scores of Zimmer's include Gladiator, The Thin Red line, As Good As It Gets, Rain Man, The Dark Knight Trilogy, Inception, Thelma And Louise, Black Hawk Down, The Last Samurai and Dunkirk. Recently, Zimmer completed highly successful 'Hans Zimmer Live' tour stops across Asia and Australia and continues to perform concerts around the globe including an upcoming European tour beginning in February 2021
4 December 2019

No Time To Die first trailer released
The long anticipated first trailer for No Time To Die has been released online worldwide.
3 December 2019

No Time To Die character posters released
New character posters have been released a day ahead of the global debut of the first No Time To Die trailer. The posters feature Daniel Craig, Léa Seydoux, Rami Malek, Lashana Lynch, Ben Whishaw, Ana de Armas and Naomie Harris.

Following the style of the previous four James Bond films, the posters give us our first glimpse of the main cast in character, although only the name of the film is shown on the posters.

Similar images have been released worldwide with the title translated into different languages depending on the territory in which the film will be released in April 2020.
1 December 2019

No Time To Die worldwide release dates confirmed
2 April 2020
Austria (Distributor: Universal Pictures Austria)
Germany (Universal Pictures Germany)
Greece (TULIP Entertainment GR)
Netherlands (Universal Pictures Nederland)
Spain (Universal Pictures España)
Switzerland (Universal Pictures Switzerland)
UK (Universal Pictures UK)

3 April 2020
Denmark (SF Studios)
Finland (SF Studios)
India
Norway (SF Studios)
Poland (Forum Film Poland)
Sweden (SF Studios)
Turkey

8 April 2020
Australia (Universal Pictures Australia)
Belgium
France (Universal Pictures France)
Hungary (Forum Hungary)
Iceland
Indonesia
Italy
Latvia
New Zealand (Universal Pictures New Zealand)
USA (United Artists Releasing)

9 April 2020
Argentina (UIP)
Brazil (Universal Pictures Brasil)
Portugal
Singapore (UIP)

10 April 2020
Bulgaria (Forum Film Bulgaria)
Estonia
Lithuania

30 April 2020
Hong Kong
25 October 2019

No Time To Die wraps after 184 days of filming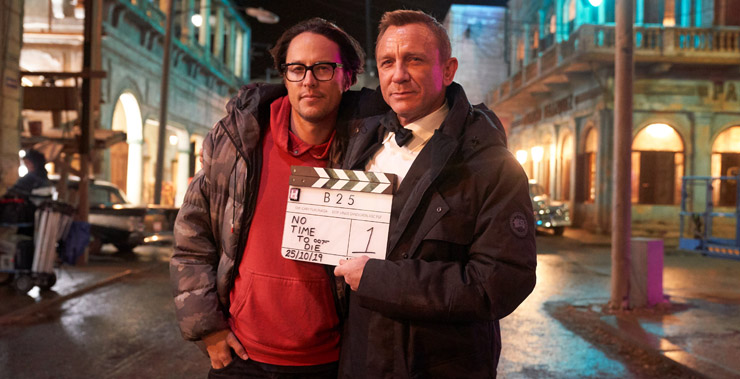 After a delayed start, No Time To Die wraps after 184 days of filming. The last scene was shot at Pinewood Studios on a Havana street set. James Bond fans across the globe now await the debut of an official trailer and the announcement of the title song performer ahead of the April 2020 release.
5 October 2019

Teaser poster released to celebrate Global James Bond Day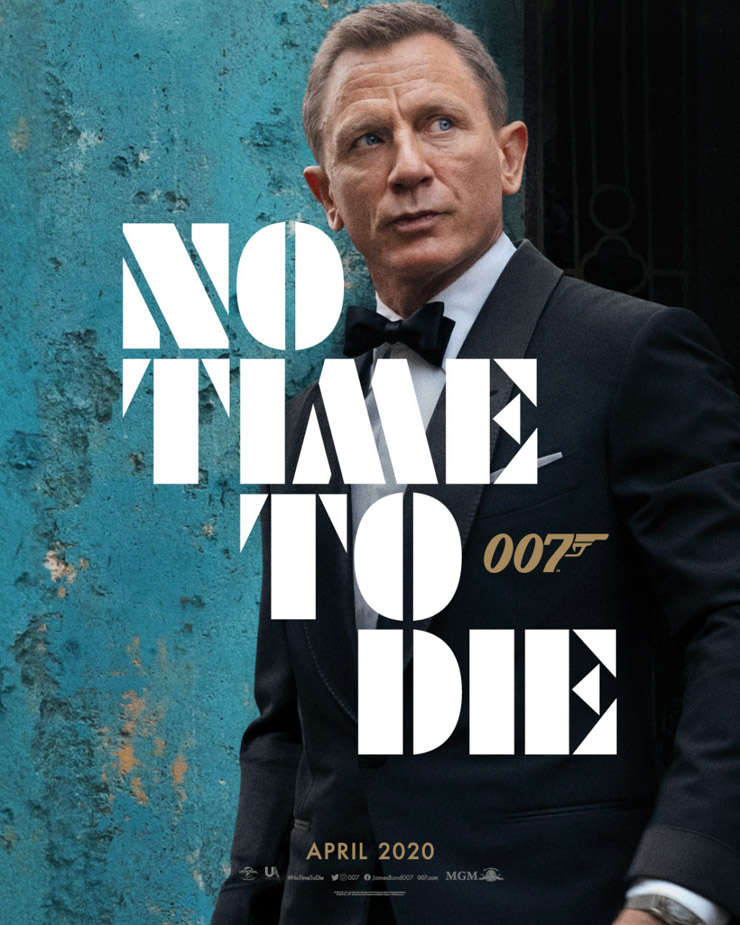 9 September 2019

Filming on No Time To Die continues in Matera, Italy
Daniel Craig, Léa Seydoux and director Cary Joji Fukunaga arrive in the stunning hilltop city of Matera to continue filming No Time To Die.

A spectacular stunt sequence has been taking place with James Bond (Daniel Craig) and Dr. Madeleine Swann (Léa Seydoux) chased through the narrow streets of the historic Italian city. Several Aston Martin DB5's have been used in the action which is believed to form part of the pre-title sequence of No Time To Die.
20 August 2019

No Time To Die is announced as the title of the new James Bond film
James Bond Producers, Michael G. Wilson and Barbara Broccoli today released the official title of the 25th James Bond adventure, No Time To Die. The film, from Albert R. Broccoli's EON Productions, Metro Goldwyn Mayer Studios (MGM), and Universal Pictures International is directed by Cary Joji Fukunaga (Beasts of No Nation, True Detective) and stars Daniel Craig, who returns for his fifth film as Ian Fleming's James Bond 007. Written by Neal Purvis & Robert Wade (Spectre, Skyfall), Cary Joji Fukunaga, Scott Z. Burns (Contagion, The Bourne Ultimatum) and Phoebe Waller-Bridge (Killing Eve, Fleabag) No Time To Die is currently in production. The film will be released globally from April 2, 2020 in the UK through Universal Pictures International and in the US on April 8, from MGM via their United Artists Releasing banner.

No Time To Die also stars Rami Malek, Léa Seydoux, Lashana Lynch, Ben Whishaw, Naomie Harris, Billy Magnussen, Ana de Armas, Rory Kinnear, David Dencik, Dali Benssalah with Jeffrey Wright and Ralph Fiennes.

In No Time To Die, Bond has left active service and is enjoying a tranquil life in Jamaica. His peace is short-lived when his old friend Felix Leiter from the CIA turns up asking for help. The mission to rescue a kidnapped scientist turns out to be far more treacherous than expected, leading Bond onto the trail of a mysterious villain armed with dangerous new technology.

Other members of the creative team are; Composer Dan Romer, Director of Photography Linus Sandgren, Editors Tom Cross and Elliot Graham, Production Designer Mark Tildesley, Costume Designer Suttirat Larlarb, Hair and Make up Designer Daniel Phillips, Supervising Stunt Coordinator Olivier Schneider, Stunt Coordinator Lee Morrison and Visual Effects Supervisor Charlie Noble. Returning members to the team are; 2nd Unit Director Alexander Witt, Special Effects and Action Vehicles Supervisor Chris Corbould and Casting Director Debbie McWilliams.