Unlike earlier films in the series, No Time To Die (2021) did not have as many worldwide premieres due to the ongoing effects of the global Coronavirus pandemic. Most of the cast attended the Royal World Premiere at London's Royal Albert Hall but did not take part in further promotion for No Time To Die. However, the film was premiered in other countries with special screenings attended by some notable James Bond alumni.
| | |
| --- | --- |
| | Zurich, Switzerland - 28 September 2021 Zurich Convention Center |
No Time To Die was also screened at the Zurich Convention Center as part of the 17th Zurich Film Festival. The Swiss premiere of No Time To Die took place at 9.00pm on Tuesday, September 28 - the same time the film was been shown at London's Royal Albert Hall. Following the screening at the new 1,200-seat Zurich Convention Center the festival will present a second presentation on October 2nd at the same venue. A retrospective of Craig's four previous appearances in the role of the British superspy and a new documentary Being James Bond will also play at the festival, which runs September 23-October 3, 2021.
| | |
| --- | --- |
| | Monte Carlo, Monaco - 29 September 2021 Monte Carlo Casino |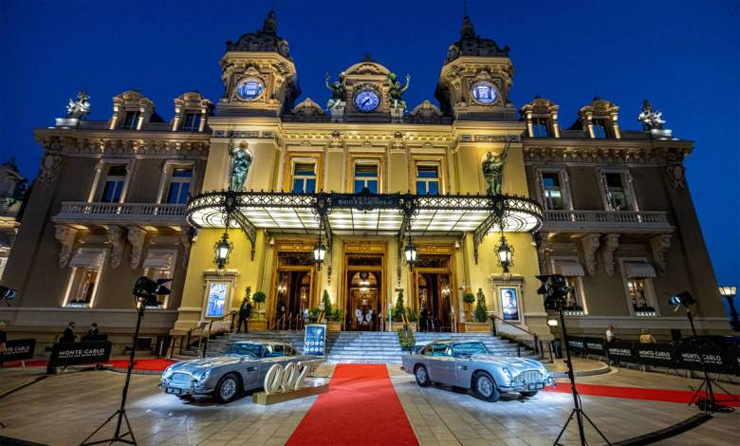 The Monaco premiere was held at the Casino Monte-Carlo, under the High Patronage of H.S.H. Prince Albert II of Monaco and the Princess Grace Foundation-USA was attended by No Time To Die director Cary Joji Fukunaga, Dame Shirley Bassey and Christian Moore, the son James Bond actor Sir Roger Moore.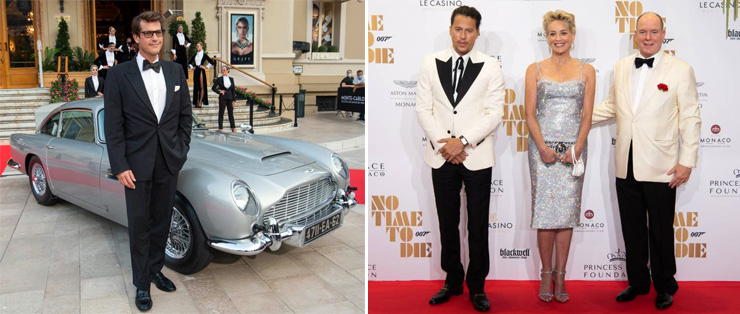 ABOVE: (left) Christian Moore (right) No Time To Die director Cary Joji Fukunaga, Hollywood actress Sharon Stone and H.S.H. Prince Albert II of Monaco. BELOW: Three-time James Bond title song performer Dame Shirley Bassey poses in front of an Aston Martin DB5 at the Monaco premiere of No Time To Die.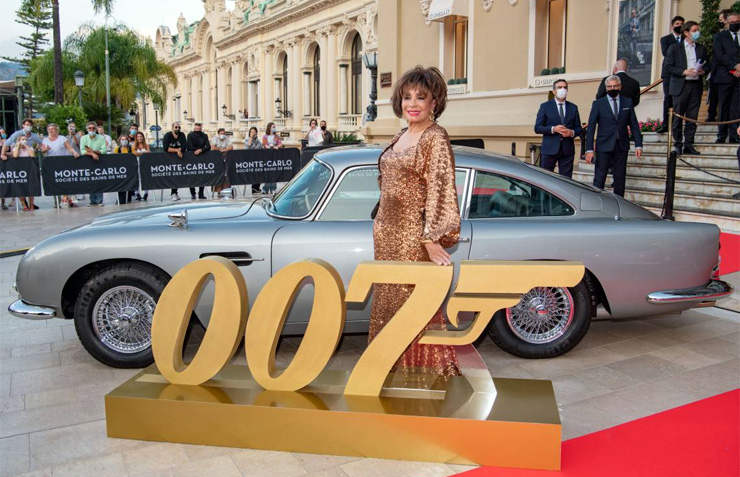 The event also featured a pageant of James Bond's cars including a 2021 Aston Martin Goldfinger DB5 Continuation vehicle, a 1964 Aston Martin DB5 and the Lotus Esprit S1 featured in The Spy Who Loved Me (1977). Also attending the event was Hollywood actress Sharon Stone.
| | |
| --- | --- |
| | Matera, Italy - 29 September 2021 CineTeatro Comunale Gerardo Guerrieri |