James Bond and PLAYBOY part 4
It would be another decade before James Bond made his next appearance in PLAYBOY magazine. Since Ian Fleming's death in 1964 there had been two authors chosen by Glidrose (Fleming's literary agents) to write continuation James Bond novels. Kingsley Amis (as Robert Markham) wrote COLONEL SUN in 1968, and John Gardner who wrote fourteen James Bond novels between 1981 and 1996. Succeeding Gardner as the new James Bond author in 1997 was Raymond Benson, whose James Bond Bedside Companion published in 1984, was a reference book relating to all things 007 - covering Fleming's work and all the films up to and including Never Say Never Again. An updated version was published in 1988.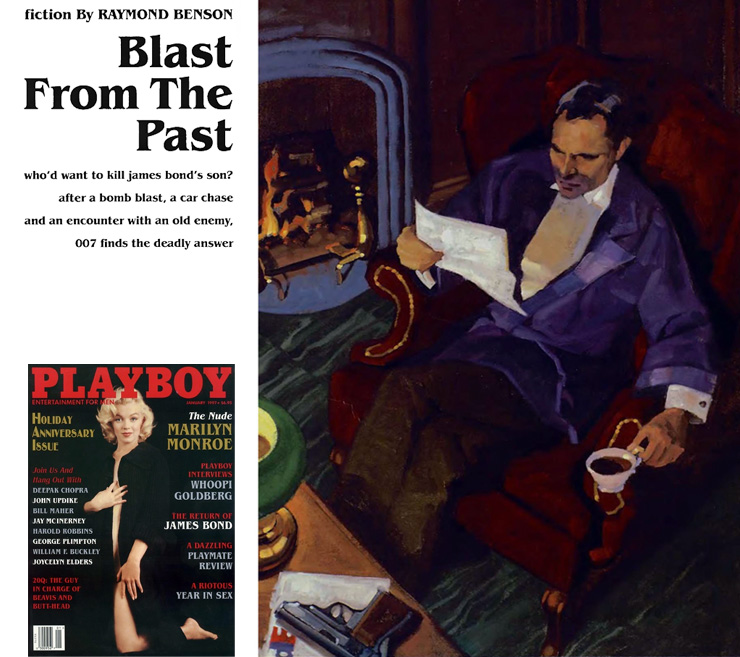 Raymond Benson's first James Bond offering was BLAST FROM THE PAST which was first published in the January 1997 issue of PLAYBOY. The short story is a direct sequel to Ian Fleming's YOU ONLY LIVE TWICE and featured Bond's son James Suzuki (created by John Pearson in JAMES BOND: THE AUTHORIZED BIOGRAPHY - a fictional account of the life of James Bond published in 1973), who is murdered by Irma Bunt as revenge for Bond's killing of Blofeld. Two illustrations by Gregory Manchess (born 1955) accompanied the story. In 2008 BLAST FROM THE PAST was published by Pegasus Books in The Union Trilogy, which included three of Benson's later novels: HIGH TIME TO KILL (1999), DOUBLESHOT (2000) and NEVER DREAM OF DYING (2001).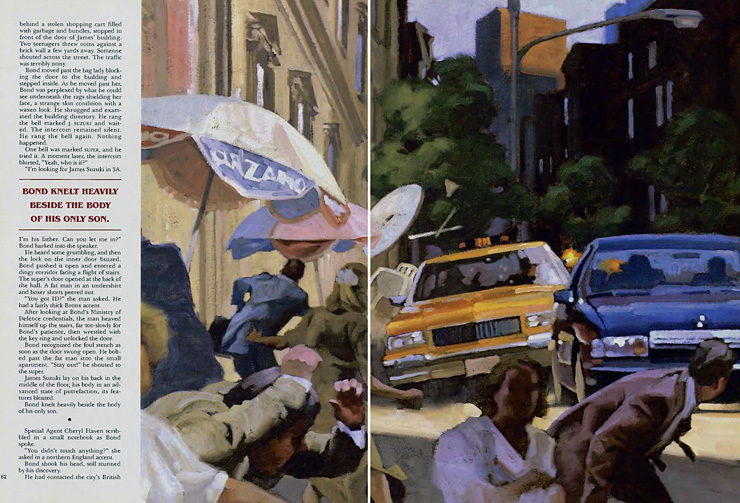 Raymond Benson's first James Bond novel ZERO MINUS TEN was then previewed in the April and May 1997 issues of PLAYBOY, with two illustrations by American painter and graphic novel artist Kent Williams (born 1962). The artists' square-jawed depiction of James Bond bore little resemblance to Pierce Brosnan who was the current on-screen incarnation at the time the novel was published.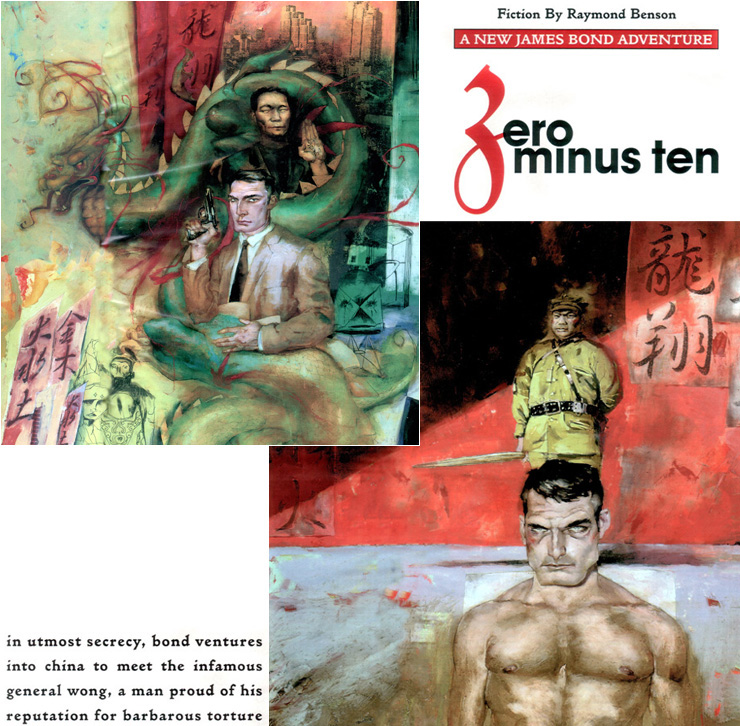 Pierce Brosnan's first James Bond film GoldenEye (1995) was unusually not covered in PLAYBOY, but his second outing Tomorrow Never Dies was promoted with three items in the February 1998 issue. A pictorial with Dutch model and actress Daphne Deckers (who had a small part in the film) was the main attraction; a two-page essay by Lee Pfeiffer (author of The Incredible World of 007) entitled 'Bond's Little Black Book', which was a brief lifestyle guide about 007, and finally a four-page fashion pictorial with Gotz Otto (Stamper in Tomorrow Never Dies) in various James Bond style poses.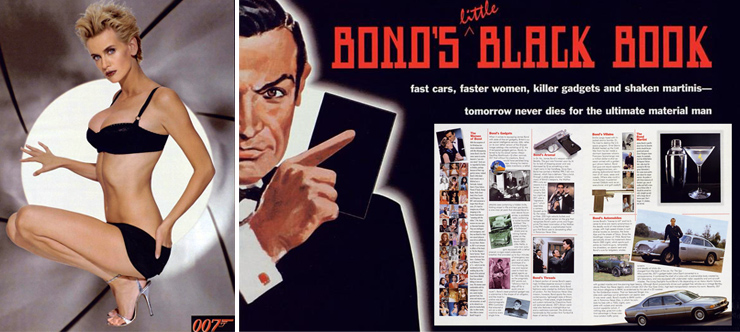 Raymond Benson had novelized Bruce Feirstein's screenplay for Tomorrow Never Dies in 1997, and his second James Bond novel THE FACTS OF DEATH was published in the UK in May 1998, in the US the following month. PLAYBOY published an excerpt from the story in the July 1998 issue, accompanied by an illustration by American figurative artist Phil Hale (born 1963).
To celebrate PLAYBOY's 45th Anniversary they commissioned Raymond Benson to write another James Bond short story, which the author freely admitted was something of a joke as the fictional character mixes with real people. In the story James Bond attends a party at PLAYBOY founder Hugh Hefner's Beverley Hills mansion, where Ministry of Defence secrets are expected to be sold to a representative of the Russian Mafia. MIDSUMMER NIGHT'S DOOM appeared in the January 1999 issue of PLAYBOY with an illustration by John Rush (born 1948). The short story was later published as part of Choice of Weapons, a second collection of Raymond Benson's James Bond novels which included ZERO MINUS TEN (1997), THE FACTS OF DEATH (1998) and THE MAN WITH THE RED TATTOO (2002). Also included was LIVE AT FIVE - a very short James Bond story originally published in TV Guide in 1999.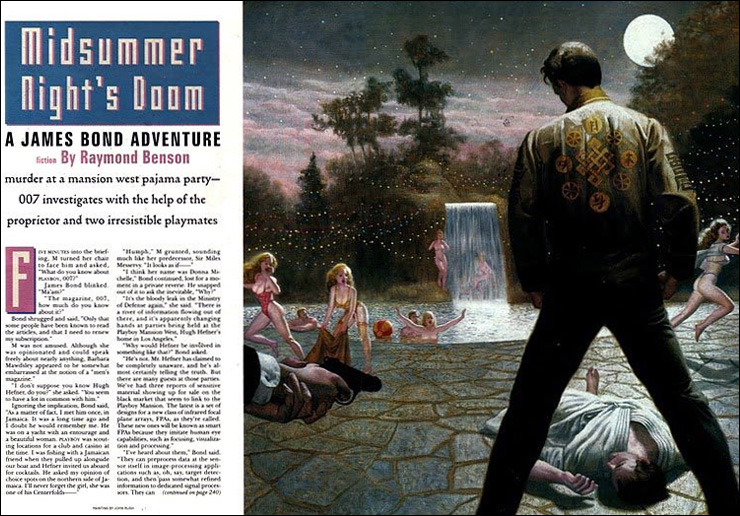 PLAYBOY next published a chapter from Raymond Benson's latest James Bond novel DOUBLESHOT in the June 2000 issue, to coincide with its publication in hardback in the United States (the novel had been first published in the UK in April 2000 by Hodder & Stoughton). The illustration that accompanied the PLAYBOY excerpt was by Italian artist Marco Ventura (born 1963), who chose to depict James Bond with the face of Pierce Brosnan. This was the first time since 1966 that the current cinematic 007 had been visualised to accompany new James Bond fiction, and the only time Brosnan had this honour.
| | |
| --- | --- |
| | The June 2000 issue also celebrated the fact that this was the 40th anniversary of James Bond and PLAYBOY. The magazine had first taken note of Bond in a review of Ian Fleming's seventh novel, GOLDFINGER, in their October 1959 issue. PLAYBOY editors then commissioned the author to write a novella which was subsequently published in March 1960. In later correspondence, Fleming admitted, "I'm sure that if he were an actual person, Bond would be a registered reader of PLAYBOY." The anniversary gave the magazine another opportunity to reprint photos of the Bond girls they had featured in the past, and create a fact file comparing the literary James Bond with his Hollywood [sic] counterpart. |
DOUBLESHOT was the last James Bond story to date published in PLAYBOY, although the magazine went on to include 007 related pictorials and interviews as the film series continued. Pierce Brosnan was the subject of the PLAYBOY interview in the December 2005 issue - the interview took place shortly after he had been informed that his services were no longer required. Brosnan, like Sean Connery before him, was remarkably candid about his time as 007 and his thoughts on being let go. Daniel Craig's debut as James Bond in Casino Royale was represented by a two-page photo of James Bond's desk, featuring a collection of props, photos and memorabilia from Bond's cinematic and literary life. The significance of each of the items could be looked up on PLAYBOY's website. To tie in with the release of Quantum of Solace, the November 2008 issue of PLAYBOY featured an interview with Daniel Craig. Once again PLAYBOY recycled many of the photographs of previous Bond girls from earlier issues, and also presented a pictorial called 'Facts. Bond Facts' - a five-page look at the secret history of all things 007. Later Bond-related pictorials have included the August 2011 issue which featured an article on Ian Fleming's Jamaican home, which had recently been turned into the GoldenEye Hotel and Resort by Fleming's friend and Island Records founder Chris Blackwell.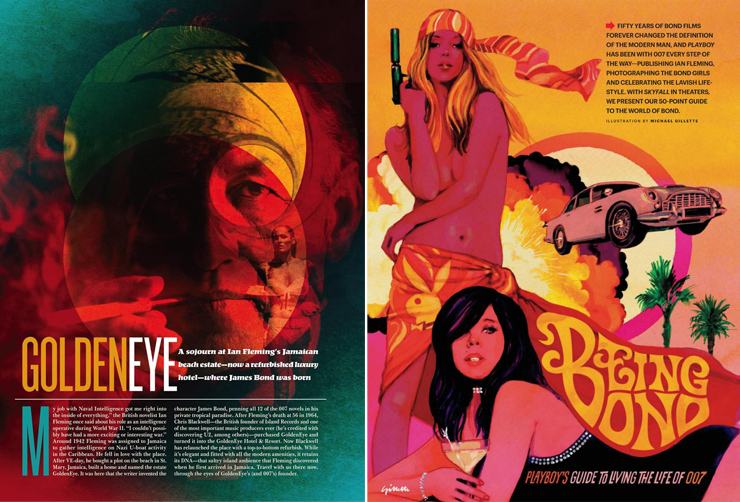 The most recent pictorial celebrated the 50th anniversary of James Bond in the cinema and the release of Skyfall in the November 2012 issue, which presented a 50-point guide to the world of Bond. The pictorial once again recycled many images and information from earlier issues, but was accompanied by a new illustration by Michael Gillette, who in 2008 had provided the cover artwork for Penguin Books Ian Fleming Centenary reprints.

ABOVE: (left) PLAYBOY founder Hugh Hefner (1926-2017) with the June 1963 issue which featured the final instalment of the magazine's serialisation of Ian Fleming's ON HER MAJESTY'S SECRET SERVICE. (centre) PLAYBOY Argentina November 2015 issue celebrating 50 years of James Bond 007 (right) PLAYBOY Poland December 2015 issue SPECTRE special.
With the fragmentation of the PLAYBOY brand via numerous international issues, websites and other digital platforms, the literary James Bond may have been left behind long ago; but the cinematic legend lives on, and each new film is duly promoted by the magazine, in its various incarnations. The most recent James Bond related US issue was November 2015 when PLAYBOY interviewed Chistoph Waltz (Franz Oberhauser/Ernst Stavo Blofeld) to coincide with the release of SPECTRE.
When Hugh Hefner died in 2017 at the age of 91, most obituaries neglected to report that it was PLAYBOY that had been largely responsible for introducing Ian Fleming and James Bond to an American audience in the early 1960s, long before the success of the film series.
---