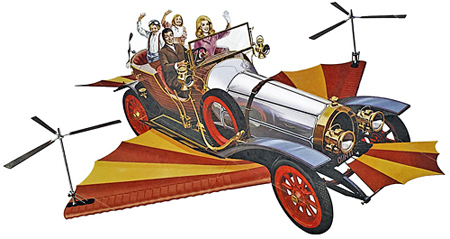 Strong Kentish connections can also be found in Ian Fleming's legendary children's book CHITTY CHITTY BANG BANG, which was adapted for the cinema in the evergreen 1968 movie musical starring Dick Van Dyke as Caractacus Potts, and the successful touring stage version, both produced by Albert R. Broccoli's EON Productions. Fleming's 'Chitty' stories (illustrated by John Burningham) are affectionately dedicated to the memory of the original Chitty Bang Bang (sic) Mercedes built in 1920 by Count Louis Zborowski (also co-creator of The Romney, Hythe & Dymchurch Railway) on his estate at near Pett Bottom and Canterbury. In the 'Chitty' stories the Potts family lived in a wood beside a big lake with an island in the middle, echoes perhaps of Leeds Castle near Maidstone. On the other side of the lake the M20 motorway on the old Dover road swept towards the sea. When Commander Potts finished rebuilding Chitty, he and the family headed for a seaside picnic, but the car, unhappy at being stuck in a traffic jam takes to the air! They fly over Canterbury, where Commander Potts insists on circling the tall tower of the cathedral and then on to Dover Castle. They fly up the coast looking for a picnic spot beside the sea, but everywhere – St. Margaret's Bay, Walmer, Deal, Sandwich, Ramsgate – are all crowded with families on the beaches who have the same idea. So the Potts family eventually picnic on the Goodwin Sands in the English Channel.

Count Louis Zborowski (1895-1924)
Between 1921 and 1923 Louis Zborowski, the millionaire racing driver son of a Polish Count and an American mother, designed and built three aero-engined cars assisted by his engineer Captain Clive Gallop. These cars were all known as "Chitty Bang Bang".

In the film version, the name "Chitty Chitty Bang Bang" came from the noise the car made, but for the original cars it was actually the words to a World War I bawdy soldiers song about Officers based in France which gave the car its name. British Officers would obtain a weekend pass or "chit" so they could go to Paris to "enjoy the favours of the ladies of the night". Hence "Chitty Bang Bang".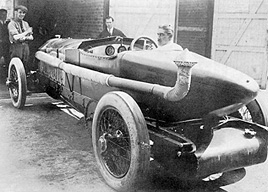 ABOVE: Louis Zborowski in 'Chitty Bang Bang 1'