ABOVE: In addition to the vehicles on show, the BOND IN MOTION exhibition also showcases some of the props and gadgets used in the James Bond films.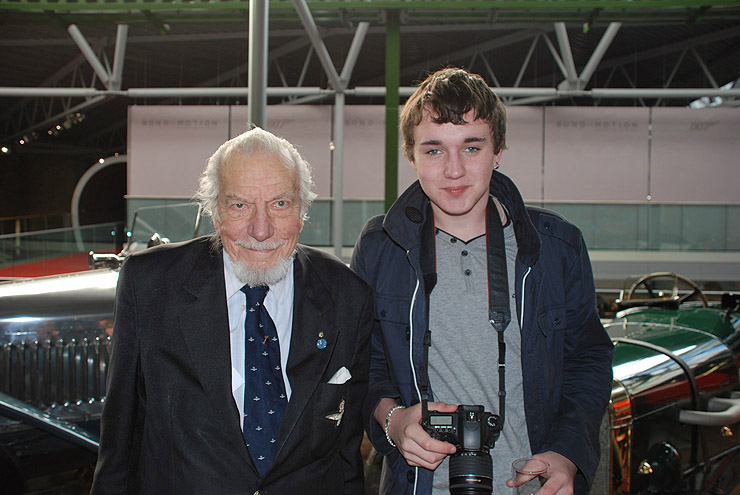 ABOVE: Wing Commander Ken Wallis [Autogyro designer and pilot of 'Little Nellie' in You Only Live Twice (1967)] with Adam-John Page-Smith at the BOND IN MOTION exhibition at the National Motor Museum, Beaulieu.
ABOVE: [left] 007 MAGAZINE Editor & Publisher Graham Rye chats with Britt Ekland and EON Productions' Archivist Meg Simmonds [right] Doug Redenius MD/Curator The Dezer Collection/Museum & Pavilion chats to Britt Ekland who played Mary Goodnight in The Man With The Golden Gun (1974)
ABOVE: [top left] Acrostar BD-5J Jet mini-jet from Octopussy (1983) [top centre] Honda trike from Diamonds Are Forever (1971) [top right] Bombardier MX Z-Rev Ski-Doo from The Word Is Not Enough (1999) [bottom left] Cubby Broccoli's 1962 Rolls-Royce Silver Cloud II used in A View To A Kill (1985) [bottom right] SFX Supervisor Chris Corbould in an Aston Martin DBS used in Quantum of Solace (2008).
PHOTOGRAPHS/ADAM-JOHN PAGE-SMITH/GRAHAM RYE/DAVID WIMBLE