Designing 007: 50 Years of Bond Style at the Kunsthal, Rotterdam
007 MAGAZINE: Mr. Krabbé and Ms. d'Abo, how has being part of the extended Bond family affected your lives in the past 27 years?
Has that changed anything?

Jeroen Krabbé: Definitely it did. Being part of a Bond film means that you are part of the Bond family. And it's quite an extended family. Within the middle of the family stood Cubby Broccoli; and I never met a producer like this gentlemen before. To give you an example; when we were shooting in the middle of the night in Vienna and it was quite chilly, Cubby was there like 3 o'clock in the morning handing out blankets to everyone – not only to the stars but also the runners as well. He was so caring for his 'family' and Barbara (his daughter) took over later and Michael, his stepson, and they took over the production and ever since we were part of the family. We've been in touch with them and I consider Barbara as one of my dearest friends and one of my 'sisters'. I could call them in the middle of the night, and I have seen them a lot of times. And you will be greeted after so many years, you know, as someone they know so well and ask you in for dinner and ask you into their homes with their family. That changed my life totally, because I never encountered a producer like that in Holland to be honest. On the contrary..."
Maryam d'Abo: "I just wanted to add that Cubby Broccoli, as Jeroen says, was a remarkable producer and very much a family business. That's where the integrity probably held on. But I think we were very lucky, Jeroen and I, because Cubby got quite sick after. We were the last Bond film when he physically was there. We were in the Moroccan desert where The Man Who Would Be King was first filmed and it was just a strip with a flower bed and a couple of houses. They were just finishing building the hotel where we were staying. The crew got slightly fed up after a few weeks of the Moroccan food. They got a bit of tummy trouble, a British crew, so they like their bacon and eggs. And so Cubby had all this pasta brought over from Italy. Barbara and a couple of people, and you, Jeroen, they took over the kitchens of the hotel and make pasta for the whole cast and crew. It was like that. It was panache we worked with Cubby Broccoli. He always made sure the crew was happy and made it feel they were all part of the family. So it was not like something that was an impersonal job, film. When it's such a big machine, you really felt it was like something personal. And you were really hundreds of people. That's why we're so lucky and blessed and we are part of this club, family. The other thing is that some people were not even born when we were making The Living Daylights and we're getting fan mail from people not born at that time and it will go on forever and ever. And that's the legacy that Cubby Broccoli has brought. Forever and ever, Bond is the biggest series in entertainment and we travelled doing a lot of publicity you do after Bond. For me it changed my life because I had to dub in LA to do a pilot to the series and I would have never gone to America…because I did publicity for Bond there, so it did really change my life…"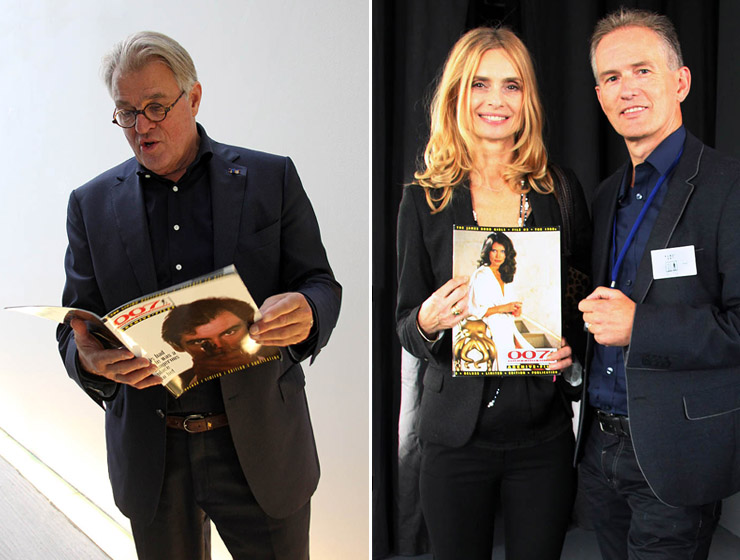 ABOVE (left) Jeroen Krabbé reads '007 MAGAZINE ARCHIVE FILES – The Living Daylights & Licence To Kill' (right) Maryam d'Abo and Ben van den Broek. Maryam is featured in '007 MAGAZINE ARCHIVE FILES – The James Bond Girls – File #3 The 1980s'.
Jeroen Krabbé: Now I had the same experience, after Bond, I got a lot of offers from all over the world. Even from some obscure filmmakers in whatever country. But it gave me the possibility to work with Harrison Ford in The Fugitive, with Barbra Streisand – because everyone sees the Bond film. The Bond film is known from New Zealand to Reykjavik. And still, like Maryam says, I do get fan mail, now for 27 years about Bond. They send me pictures, you know, which you have to sign. So that's quite an experience. But talking about the food in Morocco, everybody was fed up with the tanginess and everything after how many months…two months. I proposed to Barbara, "Barbara I want to cook for the crew, if you like to." (Barbara) "Please give me what you need."I made a shopping list for Barbara and gave it to her. And this is in the middle of the desert. Nothing, no shops whatsoever! I just gave it to her as if in the middle of London or Paris. The next day there it was, what I asked for; tuna fish, and there was spaghetti and parmesan cheese and everything I needed. I said 'Oh thank you so much' and Barbara said to me, 'Don't you ask yourself the question "where does it come from?"'. I said, 'Yeah, yeah – where does it come from?'. 'Well we send a plane to Rome to get it'. And this is a true story. And then we went into the kitchen, which was the filthiest kitchen I ever seen in my life and we had the fun of our lives. And I cooked for 80, 90 people. Quite fun! That was the family. You could ask things like that from the Broccoli family, wherever you are. Our little son was ill in Morocco, and he came over, Jacob who is now 31, he was two and a half, and he came over and he didn't feel well. And I said to Barbara on the set. And within five minutes doctors were being sent to the hotel and checking on my son. That's what they do. They care about people. Because they know that when you care about your actors, when you care about the runners, care about everyone involved, you get a good film.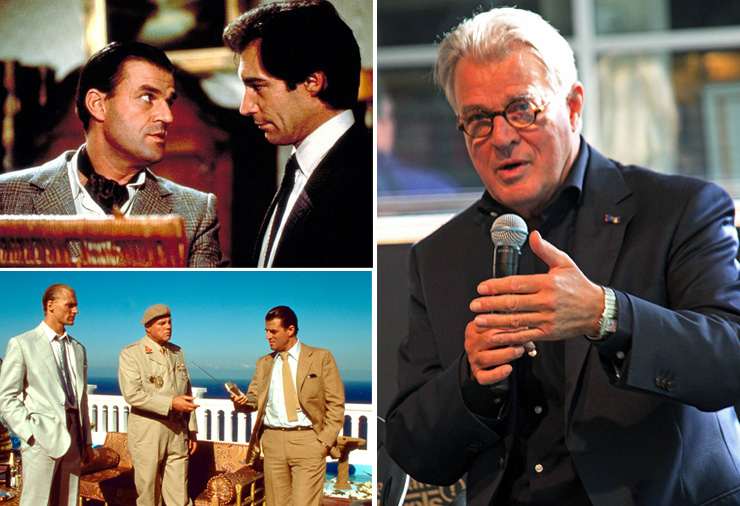 ABOVE (top left) Jeroen Krabbé with Timothy Dalton as James Bond in The Living Daylights (right), Krabbé at the Kunsthal, Rotterdam and (bottom left) with fellow villains Andreas Wisniewski & Joe Don Baker in The Living Daylights (1987).
After the press conference the party moved to the exhibition, which indeed is fabulous, showing a big part of the 007 legacy. I walked through the exhibition with Lindy Hemming and Meg Simmonds, who showed and explained different objects to some members of the international press. When stopping in the Q-room I was able to get my interview with Meg Simmonds of the EON Archive Director.
ABOVE: Meg Simmonds - EON Productions Archive Director

ABOVE: Costume designer & guest curator Lindy Hemming

Hello Mrs. Simmonds, thanks for having a brief interview with 007 Magazine.
Yes, 007 MAGAZINE. Graham Rye isn't it? We have the bowler hat that he owned also on exhibition. (walking up together with Lindy from the 'Q-Room' into the 'Casino Room'). You see over there, there are some of the costume designs Lindy did. You know, the others there from the 60s are all reproduced. We did not have any of the real ones anymore but lucky enough we had the original drawings and have now reproduced these. We are sometimes trying to buy stuff back from collectors or collectors are offering us items to be on display. Nowadays we always keep at least one original item or prop from the movie. What you see sold on auctions now is because there are two or more of those items made for the film.

What are the differences in Rotterdam from the other exhibition locations?
There are some differences. When it started in the Barbican it was before we had completed Skyfall. So we did not have any Skyfall material in it. And then it went to Toronto during our premiere. It opened in Totonto when we were premiering Skyfall in London, so it still didn't have anything from Skyfall. By the time it came to Shanghai we updated and introduced elements from Skyfall where we could but it's tricky touring and you're limited with your space, and you have to take something out and inject in something new and you have to be careful about what you do with that and then. Now in Rotterdam we introduced a few, and then again it's very difficult because of the design of the exhibition. But we got the flame throwing bagpipes that are up in the 'Q area', and when we get to 'Foreign Territories' you'll see a little maquette that is of the statue of the tank chasing (GoldenEye) that was in the art department that we never exhibited before. So that's the first time it's been exhibited. It was sitting on my desk for a long time, so I thought aaah, I should take this out. And let's see, we have a virtual reality thing that one of our first unit photographers did.