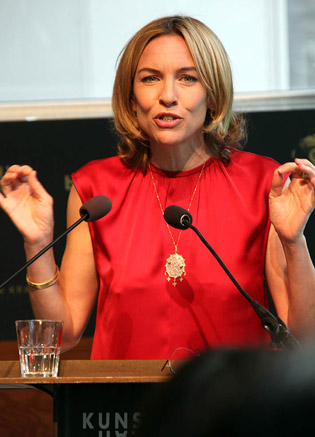 ABOVE: Author & guest curator Bronwyn Cosgrave
How large is the team of curators, just the three of you?
I let them know what I (the EON Archive) have, then it is Lindy and Bronwyn who are curators for this exhibition.

If you look at all the exhibition locations, this is the sixth now, how were they received in all countries, differently? Did people react differently?
Six countries, six. They were enthusiastic in all of them. I did not go to Toronto. So don't know about that one first hand, but understood from Bronwyn that it indeed was also well received there. And then in Melbourne it was very popular. In Moscow they loved it.
One question from an American was "Why do you think Russians like Bond so much, because the Russians are usually his adversaries." I said it changed over time. They started out like the early books with the cold war and so yes they were the natural adversaries. But then in the 70s you had Barbara Bach collaborating as a Russian spy with Bond (in The Spy Who Loved Me). And then Zukovsky (in GoldenEye and The World Is Not Enough) in the 90s is saving his life. And General Gogol worked together with Bond eventually. There is a change in the political atmosphere and you see that change in the films. Bond changes with what is happening in the world. Of course in the last Bond (Skyfall) it was a cyber terrorist. And in this day and age everybody could be a bad guy. Any country could produce a bad guy.