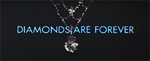 Diamonds Are Forever was released in 1971, and opened on December 17th in the USA and December 30th in the UK. The Scottish Gala Premiere in aid of the Scottish International Educational Trust and the Edinburgh Press Charities Committee was held at the ODEON Theatre, Clerk Street, Edinburgh and was attended by Sean Connery.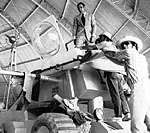 On location in Nevada, Sean Connery prepares to shoot the Moon Buggy chase sequence.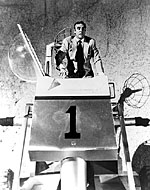 (above & top centre) Thursday 20th July 1971: 'B' Stage Pinewood Studios - Sean Connery prepares for the Moon Buggy 'break out' scene.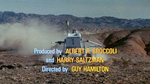 The Moon Buggy was prominently featured in the film trailer for Diamonds Are Forever.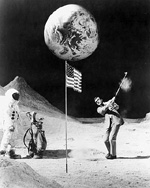 Golfing on the Moon! Sean Connery relaxes between takes at Pinewood Studios.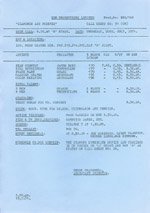 Call Sheet for the day's shooting at Pinewood Studios.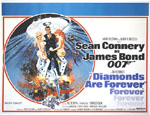 The Moon Buggy was used as the centrepiece of the film's advertising poster campaign around the world from the UK to....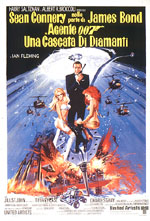 ....Italy to....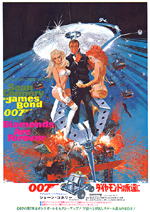 ....Japan to....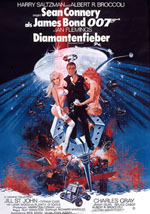 ....Germany to - everywhere on the planet!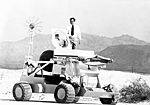 Sean Connery attempts to cool down while on location in the Nevada desert.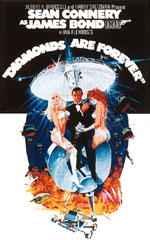 The Moon Buggy featured in a concept poster artwork for Diamonds Are Forever that was only ever used on the UK PAN paperback cover.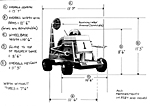 The Moon Buggy's size specifications.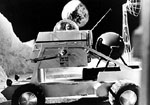 Stuntman George Leech inside the Moon Buggy at Pinewood Studios.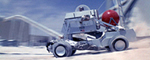 CLICK HERE TO SEE THE COMPLETE MOON BUGGY SEQUENCE FROM Diamonds Are Forever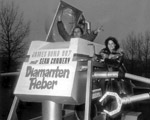 December 1971 - The Moon Buggy goes on a promotional tour in Munich, Germany...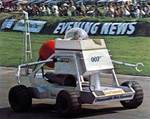 ...and across the UK throughout 1972, including an appearance at Brands Hatch in Kent.
"Get him off that machine - that isn't a toy!"
"Get out of that Moon Buggy!"

Diamonds Are Forever (1971)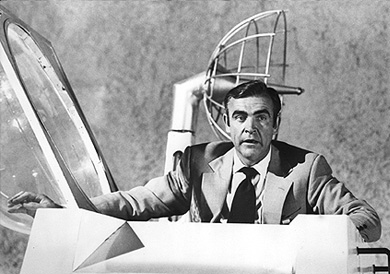 While investigating multimillionaire recluse Willard Whyte's Tectronics Space Centre outside Las Vegas in the Nevada desert, his cover blown, James Bond (Sean Connery) finds it necessary to make a hasty exit. Finding himself in an artificial moonscape complete with trainee astronauts, Bond dashes for a nearby Moon Buggy vehicle and crashes out of the centre and into one of the 007 films' most famous chase scenes.
Sean Connery returned to the role which made him famous for his final outing as Secret Agent 007 in the official EON Productions series of James Bond movies - for the then record-breaking salary of $1.25 million dollars (and a percentage of the gross!), which enabled Sir Sean to establish his Scottish Educational Trust.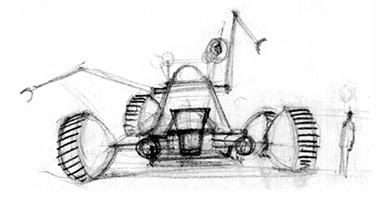 Production Designer Ken Adam's concept sketch on which custom-car designer Dean Jeffries based the physical structure of the Moon Buggy.
The Moon Buggy was conceptualised by Oscar-winning Production Designer Ken Adam, and engineered and built by famed movie custom-car designer Dean Jeffries in his California workshop. Unlike any other famous Bond vehicle the Moon Buggy is truly unique - there was only ever one built! In addition to its appearance in the 1971 film, it was used as the centrepiece of the worldwide advertising campaign for Diamonds Are Forever. After a worldwide publicity tour to promote the film, the Moon Buggy was discarded and allowed to fall into a state of disrepair. The vehicle was eventually located by Graham Rye, editor and publisher of 007 MAGAZINE, who organised the restoration to its original condition. The Moon Buggy was displayed as the impressive centrepiece in Planet Hollywood's restaurant at Caesar's Palace in Las Vegas from 1993 to 2003.
Finally, offered in auction at CHRISTIE'S 'Film and Entertainment' sale on December 14th 2004, the Moon Buggy sold for £23,000 and was purchased by Planet Hollywood owner Robert Earl for display at the Planet Hollywood Las Vegas casino. Former owner, 007 MAGAZINE publisher Graham Rye said, "It's great news for James Bond fans the world over. This sale guarantees that the time and effort I put into having the vehicle restored to its former glory have been well worth the effort, as now millions of people will be able to see the Moon Buggy for decades to come." "I'm over the moon that the Moon Buggy has been purchased for such a high-profile venue. This move will undoubtedly give Bond fans a unique chance for a great photo opportunity when they visit the Planet Hollywood casino."

TRIVIA NOTES: In the Diamonds Are Forever script given to Dean Jeffries, the Moon Buggy was to burst out through a breakaway wall and drive off down a service road before turning on to a main highway and disappearing from view. It was only when film's director Guy Hamilton saw the location that it was decided to stage a chase over the rocky and duned desert terrain. Unfortunately Jeffries hadn't constructed the vehicle to take that kind of punishment, and much to his displeasure (and the filmmakers) the Moon Buggy kept breaking down during filming. On one occasion during filming the vehicle broke down out of shot, but the rear wheel which had come off can be clearly seen bouncing back into shot in the finished film! Watch out for it the next time you see the movie on TV or DVD/Blu-ray.

EXTERIOR LOCATION SHOOTING:
The Moon Buggy scene was filmed on location over Saturday 1st to Tuesday 4th May 1971, at the 'Johns Manville Gypsum Plant' outside Las Vegas standing in for Willard Whyte's Techtronics Plant.

INTERIOR SHOOTING:
The moonscape from which James Bond (Sean Connery) escapes in the Moon Buggy was filmed on 'B' Stage at Pinewood Studios on Thursday 20th July 1971.

Diamonds Are Forever
Worldwide Box Office: $116 million
US Release Date: 17th December 1971
UK Release Date: 30th December 1971
JAMES BOND
Sean Connery

JAMES BOND GIRLS
Tiffany Case (Jill St John)
Plenty O'Toole (Lana Wood)

JAMES BOND VILLAIN
Ernst Stavro Blofeld (Charles Gray)

JAMES BOND VILLAIN'S HENCHMEN
Mr Wint (Bruce Glover) & Mr Kidd (Putter Smith)

THE MI6 TEAM
'M' (Bernard Lee)
Miss Moneypenny (Lois Maxwell)
'Q' (Desmond Llewelyn)

MAIN TITLE SONG PERFORMED BY:
Shirley Bassey

MUSIC SCORE BY:
John Barry

FURTHER BOX-OFFICE INFORMATION:
In January 1972 United Artists announced in UK trade journals that Diamonds Are Forever had achieved "the greatest 7-day gross in the history of motion pictures," when the film grossed $10,438,536 in the first seven days of its release over 23 countries (not including the UK).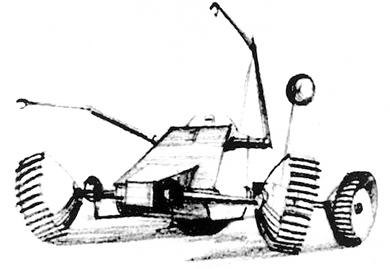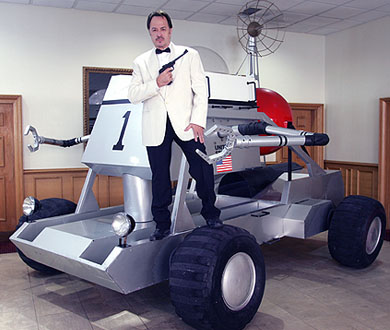 LONDON December 2004: The Sun newspaper's photographer Jon Bond had 007 MAGAZINE Editor & Publisher Graham Rye togged up 007-style for an article about the sale of his Moon Buggy at CHRISTIE'S auction house.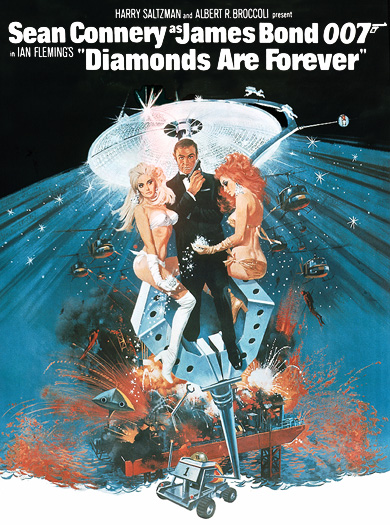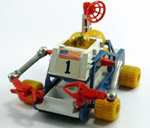 June 1972: CORGI Toys issued their first version of the Moon Buggy vehicle six months after the release of the film for the princely sum of £1.20, and....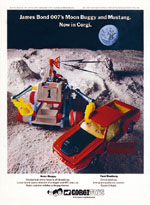 ....spared no expense in advertising the fact in publications like the Radio Times.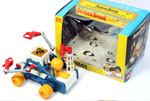 The original 1972 model in its display box can now command high prices on the collectors' market.
CORGI released a new edition of their Moon Buggy vehicle in 1997.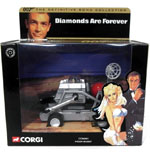 ....and once again in new packaging during 1999.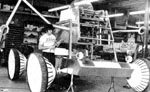 The Moon Buggy with prototype wheels.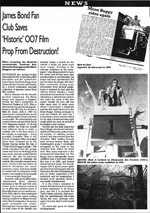 A report on how the Moon Buggy was saved from destruction appears in 007 MAGAZINE Issue #26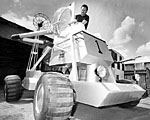 June 24, 1993:
007 MAGAZINE Editor & Publisher Graham Rye tries the Moon Buggy out for size on its first day out of the renovation workshop, and....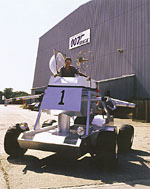 ....later at Pinewood Studios, where it was stored before its 10-year tenure at Planet Hollywood, Las Vegas, Nevada.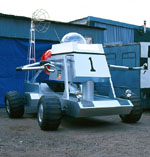 First day out of the renovation workshop and ready for action!
22 years later after its original appearance in Diamonds Are Forever, the Moon Buggy returns in 1993 to Pinewood Studios.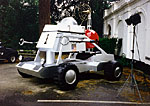 12th December 1993: Before the Moon Buggy left for Las Vegas it was showcased at The James Bond 007 International Fan Club's '22-Carat Diamonds Are Forever Christmas Lunch' at Pinewood Studios.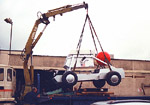 The Moon Buggy leaves Pinewood Studios on the first leg of its ocean voyage to Planet Hollywood in Las Vegas.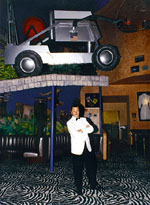 24th July 1994:
007 MAGAZINE Editor & Publisher Graham Rye attends the grand opening of Planet Hollywood at Caesar's Palace, Las Vegas, Nevada.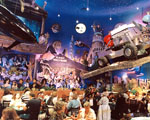 The Moon Buggy in situ during its decade at Planet Hollywood, Caesar's Palace, Las Vegas, Nevada.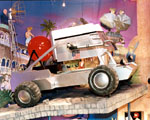 The Moon Buggy was displayed at Planet Hollywood - Las Vegas from 1994 to 2004.
The Moon Buggy sold at auction again for $400,000 in 2019.
The buyer and current location of the Diamonds Are Forever Moon Buggy remains a mystery...