Monday 4th April 2011
BAFTA CELEBRATE SIR KEN ADAM
LUKE WILLIAMS reports from BAFTA's 90th birthday tribute to the doyen of movie production designers, held at the Royal Institute of British Architects in London.
Given the immense influence that Sir Ken Adam's production design has had on the cinematic landscape, as well as the art and design world as a whole and the Bond movies in particular, it was utterly appropriate that the British Academy of Film and Television Arts (BAFTA) celebrated his recent 90th birthday with a lavish and star-studded tribute evening, held at the Royal Institute of British Architects on Monday 4 April. The evening, entitled 'A BAFTA Tribute to Sir Ken Adam', was organised in conjunction with the Albert R. Broccoli and Dana Broccoli Foundation and EON Productions were heavily represented at the occasion; Barbara Broccoli sat alongside Sir Ken and his wife Letizia while her fellow Bond producer, stepbrother Michael G. Wilson was among the many prominent figures from the film industry who spoke in tribute to Sir Ken and his groundbreaking body of work, arguing that his designs were "as iconic as the [Bond] series itself".
For a lifelong Bond enthusiast such as myself it was a real treat that tickets for the evening were made available to the public by BAFTA at the very reasonable price of £13 each. On many occasions in the past, events such as these have been 'invitation-only', thereby preventing die-hard enthusiasts from attending in favour of those with film industry connections (many of whom have far less appreciation and affection for the subjects of such tributes than the enthusiasts do!) Thankfully, there has been a tendency in recent years, particularly through events run by BAFTA, to remedy this situation.
ABOVE: (left) Sir Ken and Lady Adam enjoy a glass of chilled Taittinger champagne (right) Sir Ken is presented with his BAFTA award by Anouk Aimée, and applauded by Sir Christopher Frayling (left) and event compère Matthew Sweet.
The evening began with a Taittinger champagne reception, the favoured sparkling wine of Bond himself in many of Ian Fleming's original novels. The policy of unreserved seating in the Jarvis Hall enabled me to gain a perfect vantage point for the evening, just a couple of rows from the stage and one row in front of the section reserved for EON Productions, as well as Sir Ken and his wife who, rather charmingly, held hands throughout much of the evening.

BBC presenter Matthew Sweet (author of Shepperton Babylon, a highly entertaining history of early British cinema) made for an impressively knowledgeable and witty compère, introducing a series of speakers whose tributes ranged from the personal to the professional. Interspersed throughout these tributes were a series of film clips showcasing some of Adam's most visually thrilling work, including a montage of clips which prominently featured his seven Bond movies, and extended sequences from Chitty Chitty Bang Bang, Barry Lyndon and Dr Strangelove among many others. Among the many Bond luminaries in attendance was Lewis Gilbert, who himself celebrated his 91st birthday last month, composer David Arnold, 'golden girl' Shirley Eaton, other Bond Girls Martine Beswicke and Lana Wood, and Production Designer Syd Cain, who celebrates his 93rd birthday later this month. Gilbert, who directed You Only Live Twice, The Spy Who Loved Me and Moonraker, all of which benefited from Adam's visionary genius, was one of the evening's speakers. Despite looking somewhat frail, his keen mind and wit are thankfully undiminished and he entertained the audience with an amusing anecdote about a terrifying location scouting expedition in a helicopter over Japan in which he and Sir Ken found themselves at the mercy of a former Kamikaze pilot. Gilbert argued that Sir Ken's "unique" talent lay in his ability to transform a "flat and stale" drawing into breathtakingly "alive and active" sets.

A common thread of the evening, particularly in the tributes by noted writer Sir Christopher Frayling and Peter Lamont (Adam's most accomplished successor as Bond production designer), was an appreciation for the way that Sir Ken redefined the art of production design through his utilisation of influences incorporating expressionism, modernism and his own imagination to 'improve' on reality. For example, Lamont noted that Sir Ken "treats reality in a theatrical way" and that it is this quality that lends his work its distinctive character.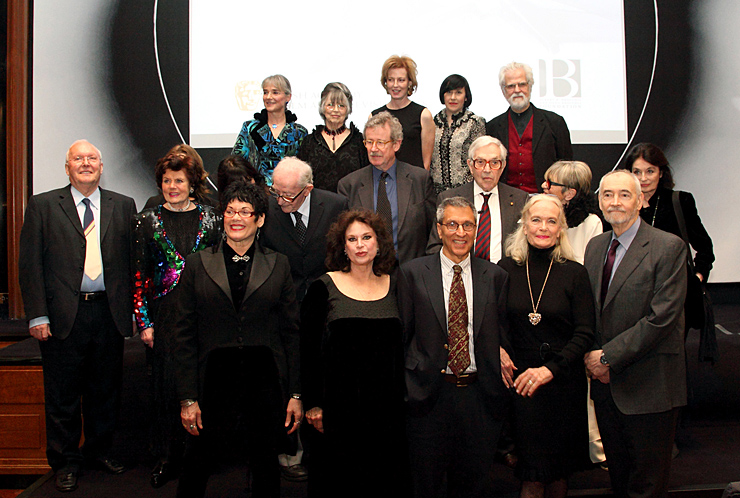 ABOVE: A gathering of Bond alumni: Including (front row) Martine Beswicke, Lana Wood, Director & Screenwriter Nicholas Meyer, Shirley Eaton, Michael G. Wilson. (middle row) Peter Lamont, Eunice Gayson, Lewis Gilbert, Sir Christopher Frayling, Sir Ken and Lady Adam, Anouk Aimée. (back row) Katharine Kubrick, Christiane Kubrick, Julia Peyton-Jones, Alice Rawsthorn , Jan Harlan [brother of Christiane Kubrick], the executive producer of Stanley Kubrick's Barry Lyndon (1975), The Shining (1980), Full Metal Jacket (1987) and Eyes Wide Shut (1999).
Former 007 Sir Roger Moore had been due to attend the event but sadly a recent accident while filming in Bucharest left him with a sprained ankle, and as a consequence he was forced to send his apologies instead. Ever the gentleman, Moore sent a witty and warm message to Sir Ken, which was read by the 'first' Bond girl, Eunice Gayson (aka Sylvia Trench in Dr. No and From Russia With Love). Moore referred to Sir Ken's incredible war record as a daring RAF pilot during World War II, calling him "one of my heroes", and likened the experience of entering one of his sets as akin to "walking into a dreamland".
Perhaps the most witty and enjoyable speech of the evening was made by screenwriter and director Nicholas Meyer, who worked with Sir Ken on the 1988 film The Deceivers (which featured Pierce Brosnan in the lead role, several years before he graduated to the 007 role in GoldenEye). Describing a fruitless search for a Georgian church needed for one sequence, Meyer recalled telling Sir Ken that he would settle for filming in a Victorian church instead, believing that no members of the audience would notice, or care. In reply Sir Ken, ever the perfectionist, replied: "I will care! I will know!" and made it clear that if Meyer settled for such a compromise he would ask for his name to be removed from the film! Of course, Meyer demurred and soon after Sir Ken found an ideal Georgian location that helped maintain the film's attention to period detail. An apt example, if one were needed, of the stunning attention to detail that has characterised Sir Ken's career.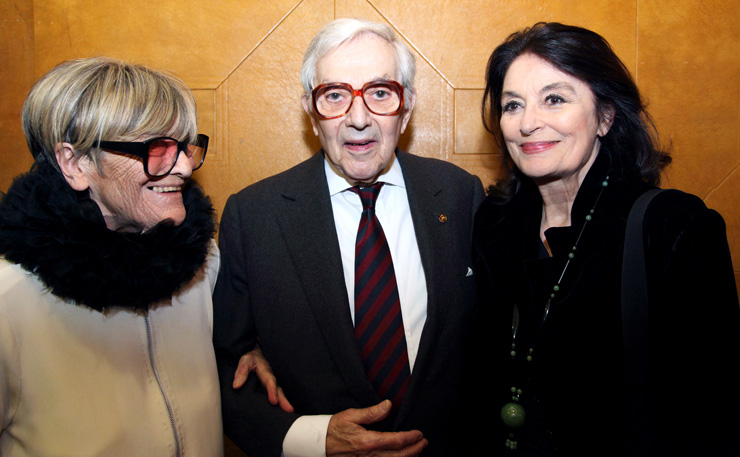 ABOVE: Sir Ken and Lady Adam are joined by French actress Anouk Aimée (right).
The evening ended with Sir Ken being presented with a special BAFTA award by French actress Anouk Aimée, which he accepted with his customary grace and charm, before being joined by his wife onstage, as the crowd (led by Barbara Broccoli) stood in applause. It was a moving conclusion to a memorable evening. As I made my way home I was left to reflect that, after the recent passing of John Barry, Sir Ken (alongside Sir Sean Connery and Syd Cain) is the only remaining creative titan from the halcyon early days of the Bond films; Albert R. Broccoli, Harry Saltzman, Terence Young, Richard Maibaum, Peter Hunt and Maurice Binder are all, sadly, no longer with us, and the movie world is the poorer as a result. It is heartening that Sir Ken is now receiving the respect and adulation that he has long deserved, but it is striking that it has taken the wider world and 'critical' establishment several decades to fully appreciate the quality and influence of the creative innovators who were associated with establishing the James Bond series. For many years there was a reluctance to give the Bonds any serious critical attention or praise, even within the film industry itself – how else, for example, can we explain the fact that John Barry and Sir Ken Adam's combined work on 18 Bond movies was honoured with just one measly Oscar nomination? As Sir Christopher Frayling pointed out it is also a strange and ironic fact that Sir Ken's two Oscars were both awarded for period films (Barry Lyndon and The Madness of King George) that are atypical of his usual style of design.

All the more reason, then, to appreciate Sir Ken while we can; words like 'genius' and epithets such as 'national treasure' are much over-used, but in his case they do scant justice to his unique talent and the outstanding bravery he showed in defending his adopted country during World War II. So…happy birthday Sir Ken and, as Christiane Kubrick said in her closing address, we're already looking forward to your 95th and 100th birthday celebrations!
http://www.bafta.org/access-all-areas/videos/ken-adam-tribute,1842,BA.html Download the event brochure

Photographs courtesy of BAFTA www.bafta.org
PHOTOGRAPHS/JAMIE SIMONDS