Jeffery Deaver in the CARTE BLANCHE spotlight!
LUKE WILLIAMS reports from a 'Q & A' session in London with Bond 're-boot' author Jeffery Deaver, held to coincide with the publication day of CARTE BLANCHE.
After Wednesday's extravagant launch at London's St. Pancras International Station, the promotional wheels for the new Bond novel, Jeffery Deaver's CARTE BLANCHE, continued to roll on Thursday 26 May with a special 'Meet the Author' event spotlighting the American thriller writer at the Congress Hall on Great Russell Street in central London.
Although not a sell-out, a healthy crowd (composed, in pretty much equal measures, of Bond fans, Deaver fanatics and general literary enthusiasts) were treated to an entertaining hour or so in which Deaver was interviewed by Times journalist and 'foreign policy specialist' Michael Binyon. His line of questioning was resolutely predictable, covering the standard 'Q & A' session staples - from Deaver's upbringing and influences, to his writing and research techniques while also canvassing his views on Fleming's work and literary style. Despite an occasionally verbose manner, the 61-year-old Deaver struck me as an engaging and entertaining conversationalist, providing plenty of anecdotes and Bondian analysis to keep the fans happy.
A self-confessed "nerd with no talent for sports whatsoever" (quite a contrast to Bond's creator Ian Fleming, who was Eton college's champion athlete - or 'Victor Ludorum' - in 1925 and 1926!) Deaver is a former lawyer and journalist and the second American to be hired to continue Fleming's literary legacy. As a consequence much of the evening's discussion centred around the extent of his research to ensure that CARTE BLANCHE, in its dialogue and factual details, rang true to Fleming's British origins. Deaver stressed that "every place in England [described] in the book I went to" and that getting the details of the novel's British context correct had been a priority, commenting that he had "worked hard to make it credible for all my audiences". An amusing aspect of Deaver's eight-month research process was that he viewed as many DVDs as possible of British television shows – from EastEnders to The Office – in order to absorb the flavour of the country and as many of its cultural and linguistic quirks as possible. The technical details of his novels are also obviously something Deaver labours over, his argument being that "anything [i.e. errors] that interferes with [the reader's] enjoyment of the book is my fault".
Deaver, whose first novel was written while commuting to work on Wall Street during the late 1980s, was at his most illuminating when explaining the origins of his interest in Bond and his views of Fleming's work. His first experience of 007 came during childhood when he read one of Fleming's novels and found it to be the "quintessential adventure story". When asked by Binyon to analyse Fleming's strengths, Deaver highlighted his talent for a "linear simple story" featuring a "hero on a quest to slay a dragon" within a tightly constructed plot of "escalating tension". Deaver also praised Fleming's ability to keep his readers compulsively reading until the final page, quoting the maxim of crime novelist Mickey Spillane: "People don't read books to get to the middle, they read books to get to the end!"
Deaver's insights into the character of Bond also proved astute. "It's important to love Bond," he noted. "He is a suave and debonair fellow, but also a very dark and edgy character as well. Fleming brought that sense of psychological complexity to the Bond character." When Binyon raised the fact that Bond has been controversially 're-imagined' in CARTE BLANCHE as a "former smoker" (in contrast to Fleming's dedicated nicotine addict) Deaver argued that "more people do not smoke than do smoke" in 2011 and that he was concerned readers might not identify or sympathise with a lead character who smoked. "You have to write for your audience," he pointed out, a touch unconvincingly for my liking – I'm a "former smoker" myself, but I like my Bond to have those special Morland's cigarettes with the three gold bands!
Back on less controversial territory, Deaver identified the "revolutionary" FROM RUSSIA, WITH LOVE as his favourite Bond novel (and film), arguing that it demonstrated the "breadth" of Fleming's writing and praising the novel's unconventional opening section with its "brilliant psychological character study of Red Grant."
As for CARTE BLANCHE, Deaver shrugged off concerns about how the book might be received, commenting: "when one has the presumption to become a writer of fiction, part of the game is being published, and with that comes the certainty that you won't please everyone. You take your chances!" He also left open the possibility of writing further Bond novels, admitting that "the issue of future books is open" and that he "certainly would entertain the idea" of writing another Bond novel, particularly if CARTE BLANCHE is a commercial success which, given the huge marketing campaign that has surrounded the book's launch, seems highly likely.
Before the evening drew to a close the 'Q and A' was thrown open to the public and Deaver's graciousness and patience in fielding some poorly (and eccentrically!) worded questions from certain audience members was admirable. This section of the evening did provide some interesting moments and insights, however, including the revelation that Deaver didn't write the novel with any of the Bond actors in mind – but he did work with a photo of Hoagy Carmichael above his word processor! As most Bond fans will know, Carmichael was an American singer-songwriter whose physical appearance is likened to Bond's by Vesper Lynd and Gala Brand in the Fleming novels CASINO ROYALE and MOONRAKER.
Among the other interesting nuggets of information to be gleaned from the evening was that Deaver's love of driving stemmed from his curiosity about Fleming's description of Bond making a "racing [gear] change" while driving his Bentley; that he prefers the Ricky Gervais version of The Office to the American remake; that he doesn't think too highly of fellow author John Grisham or actor Mel Gibson; and that his favourite scenes from the Bond novels are the golf match from GOLDFINGER and the moment in MOONRAKER when Bond signals his willingness to sacrifice his own life for his country by lighting a "last cigarette" under the tail of Hugo Drax's rocket in order to destroy it before it can be launched towards London.
In organisational terms, and from an economic standpoint, the evening left a little to be desired– the £12 ticket costs for non-Times + members seemed steep, particularly given the non-discounted £19.99 price the novel was being sold for at the event – a price which seemed a trifle exploitative of the die-hard fans in attendance, especially given that one internet bookseller is currently offering it for a mere £8.16 and two major supermarkets are selling the book for £5 and £7 respectively! I was also irritated by the fact that my ticket clearly stated "6.30 for 7pm" when in reality the event was scheduled for a 7.30pm start – and then started 15 minutes late!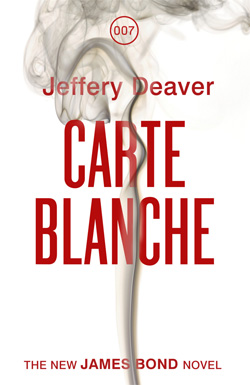 Of course, the biggest question of all (a question that this 'Q & A' did not and could not answer) remains; namely, is CARTE BLANCHE actually any good? Well, I have 432 pages to read before I can form a judgement on that!
CARTE BLANCHE is reviewed by Jon Auty here! Further information on the new James Bond novel can be found at www.007carteblanche.co.uk
Photographs from the CARTE BLANCHE launch at St. Pancras International Station ©MARK MAWSTON