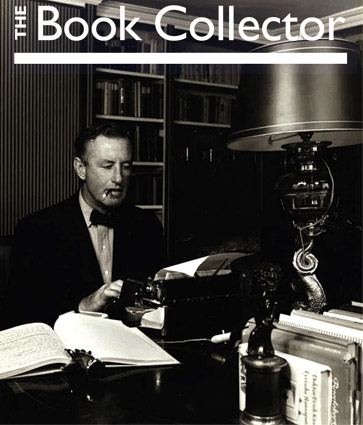 The Spring number of The Book Collector will be a special issue on the theme "Ian Fleming & Book Collecting". Ian Fleming was the publisher of The Book Collector from its start, and the principal shareholder from 1955 until his death.
Spring 2017 marks the 65th anniversary of the magazine's launch, and the first anniversary of The Book Collector's reversion to the Fleming family, after 50 years, in the person of James Fleming, the novelist's nephew.
Contributors to the issue will include Fergus Fleming, editor of Ian Fleming's letters, on "Ian Fleming and The Book Collector", Joel Silver, Director of the Lilly Library, Indiana University, on "Books That Had Started Something: Ian Fleming's Book Collection", and Nicolas Barker, for 50 years Editor of The Book Collector, on his former editorial colleague, "Percy Muir: Ian Fleming's Bookseller". Jon Gilbert, compiler of the prize-winning Ian Fleming: The Bibliography, writes on "Collecting Ian Fleming", and Sheila Markham interviews two Fleming collectors, Michael L. VanBlaricum and Jeremy Miles.