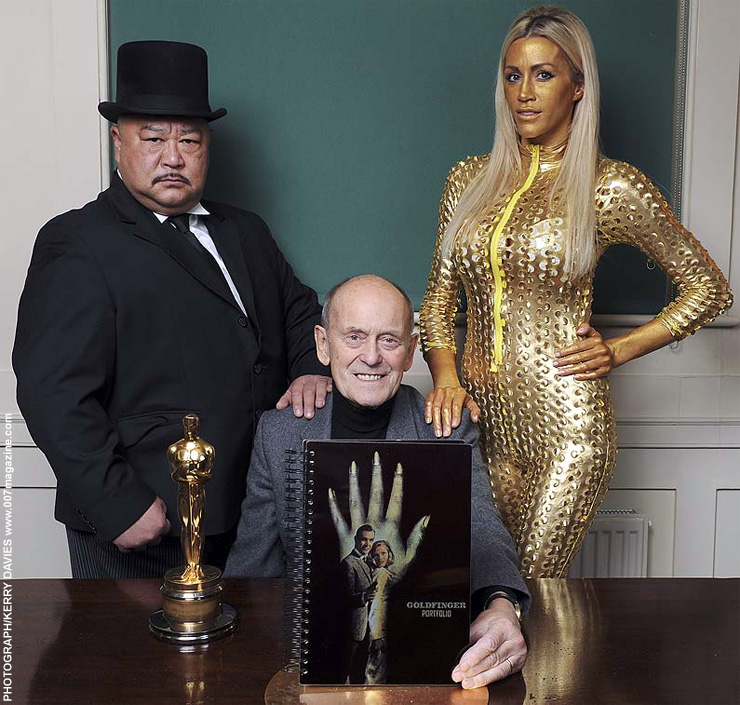 Goldfinger Oscar-winning Dubbing Editor Norman Wanstall photographed with Oddjob lookalike and 'Golden Girl', courtesy of 'Style Lookalikes', to promote the sale in auction at Bonhams on December 10, 2015 of the 'GOLDFINGER portfolio' number #007, which has been signed by a selection of artistes from behind and in front of the camera of the 1964 James Bond film Goldfinger, and is being sold in aid of The Great Ormond Street Hospital Charity.

'GOLDFINGER Portfolio' number #007
All proceeds of this auction item will be received by The Great Ormond Street Hospital Charity.
Goldfinger is without doubt the most famous, iconic and memorable of all the James Bond 007 films, and on its original release in 1964 it set movie screens alight around the world with a heady cocktail of creativity that became an entertainment phenomenon; from its glittering opening credit titles designed by Robert Brownjohn, accompanied by Shirley Bassey belting out its brassy main title theme written by John Barry, Leslie Bricusse and Anthony Newley, through to the body of an unfortunate woman painted gold, a man with a deadly steel-rimmed 'flying' bowler hat, an Aston Martin DB5 'with modifications', a Bond Girl whose feline name caused much trepidation in the American media, death by laser beam, a larger than life villain with the Midas touch, and the golden gleaming cathedral-like interior of Fort Knox, as imagined by brilliant Production Designer Ken Adam – with all these elements in place it is hardly surprising that the heady concoction that is Goldfinger impressed so many people in 1964, and now, over 50 years later, remains a popular evergreen entertainment for successive generations of film fans and Bond enthusiasts alike.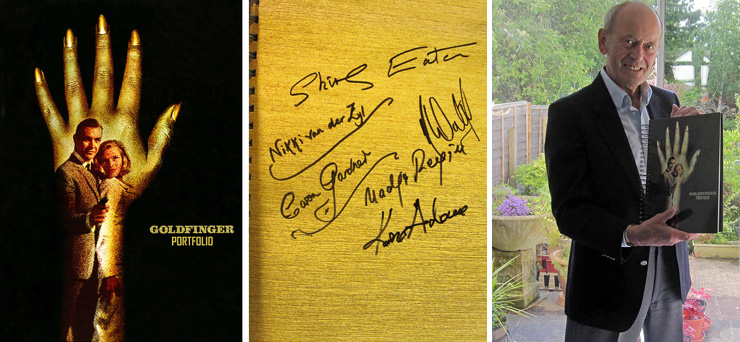 The 'GOLDFINGER portfolio' is the ultimate Goldfinger collectable and was co-written, designed and published in 2014 by Graham Rye, editor & publisher of 007 MAGAZINE. This 350-page metal covered book was published as a Limited Numbered Edition of 350 copies (originally priced £350 per copy) and features over 1,000 rare and never-before-published images from the 007 MAGAZINE ARCHIVE with detailed informational photo captions throughout, and also includes: Call Sheets, Production Documents, Press Releases, Gadget Blueprints, Ken Adam Sketches, Press Ads, Contact Sheets, UK Front of House sets, the complete UK theatrical Exhibitors' Campaign Book; all-new interviews with the Goldfinger girls: Nadja Regin, Margaret Nolan, Shirley Eaton, and the 'Voice of the Bond Girls', Nikki van der Zyl – and also includes images from two scenes shot but cut from the film and featured here for the first time!
| | | |
| --- | --- | --- |
| Shirley Eaton | Nikki van der Zyl | Caron Gardner |
The 'GOLDFINGER portfolio' Limited Numbered Edition #007 has been signed by a selection of artistes who worked on and appeared in the 1964 film Goldfinger, including: Norman Wanstall, Dubbing Editor – the first person to ever win an Oscar for a James Bond film; Sir Ken Adam – the Oscar winning Production Designer who designed the sets for Dr. No, Goldfinger, Thunderball, You Only Live Twice, Diamonds Are Forever, The Spy Who Loved Me, and Moonraker; Honor Blackman, the inimitable Pussy Galore, Shirley Eaton – whose gold painted corpse Bond discovers in his Miami hotel bedroom; Tania Mallet who as Tilly Masterson falls victim to Oddjob's deadly bowler hat; Nikki van der Zyl – who famously re-voiced Ursula Andress in Dr. No and other actresses in the Bond series including the film Goldfinger; Nadja Regin – the actress who appears with Sean Connery in Goldfinger's famous 'shocking' pre-credit sequence, and in whose eyes Bond spies an oncoming assailant behind him; and Caron Gardner – the actress who portrayed one of the squadron of femme fatales pilots in Pussy Galore's Flying Circus.
| | | |
| --- | --- | --- |
| Nadja Regin | Honor Blackman | Tania Mallet |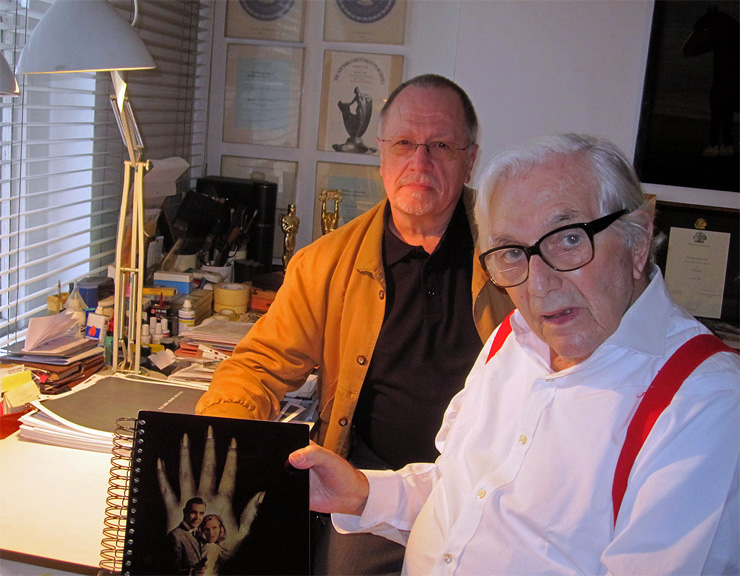 Sir Ken Adam kindly signed the 'GOLDFINGER portfolio' when author Graham Rye recently visited his home.
For further information please contact Graham Rye at editor@007magazine.co.uk
---