16 October 2021

Entertainment Memorabilia Live Auction
Treasures from Film and Television 9th-11th November 2021
Many important James Bond props and costumes are to be auctioned in London by Prop Store as part of their Entertainment Memorabilia Live Action from 9th to 11th November 2021. A significant sale of almost 1,100 props and costumes from Film and Television includes 36 lots featuring important items from the James Bond films 1962-2015.
Listed below are some of the more significant James Bond related items, many of which have never been offered in auction before.
Lot #194 - Le Cercle Casino Plaques Dr. No (1962)

A set of Le Cercle casino plaques from Dr. No (1962), the first entry in the James Bond series. Gaming plaques and chips were used at Le Cercle casino, where Agent 007 (Sean Connery) memorably introduced himself with the iconic line, "Bond, James Bond". The production used original plaques and chips loaned by Le Cercle casino at Les Ambassadeurs Club.

This set features £100, £50, and £10 plaques. All are made of plastic and feature pearlescent pink, yellow and peach finishes, respectively. The plaques feature a black picture of Les Ambassadeurs Club on the reverse, and are stamped with serial numbers. The pieces show wear from production use and age, including light surface scratching and minor discolouration. Dimensions (largest plaque): 7 cm X 10 cm X 0.5 cm (2¾" X 4" X ¼") Estimate: £3,000 - £5,000 [sold for £9,500]
---
Lot #195 - £500 Le Cercle Gaming Plaque Dr. No (1962)

The plaque is made of plastic and has a green pearlescent finish. One side features 'Le Cercle', '£500' and a unicorn decoration, and is stamped '0056'. The reverse shows '£500', 'Les Ambassadeurs Club' and a black picture of the club itself. The plaque has warped slightly with age and some of the colours have run, most notably on the unicorns. Dimensions: 7.5 cm x 11 cm x 0.5 cm (3" x 4¼" x¼")
Estimate: £2,000 - £3,000 [sold for £9,000]
---
Lot #196 - Briefcase Throwing Knife From Russia With Love (1963)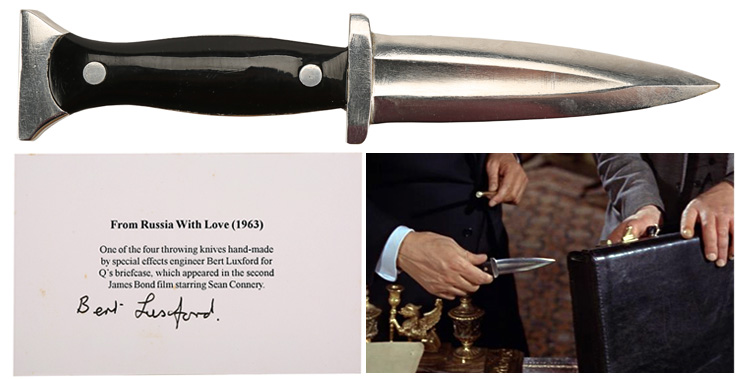 James Bond's (Sean Connery) briefcase throwing knife seen in From Russia With Love (1963). Q (Desmond Llewlyn) gave Bond a special attaché case comprising multiple gadgets, including a hidden knife, which Bond subsequently used when he fought Red Grant (Robert Shaw) on the Orient Express. The knife is one of four hand-made for the production by special effects technician Bert Luxford and all were slightly different. This knife comes from the personal collection of Bert Luxford.

The knife is made of aluminium, with a black, plastic-covered handle. It has some wear from production use and age, including scuffs and scratches, and is accompanied by a short letter of authenticity signed by Luxford. Dimensions: 20 cm x 4 cm x 1 cm (7¾" x 1½" x½") Estimate: £8,000 - £10,000 [unsold]
---
Lot #197 - Colonel Jacques Bouvar's (Bob Simmons) Throwing Knife Thunderball (1965)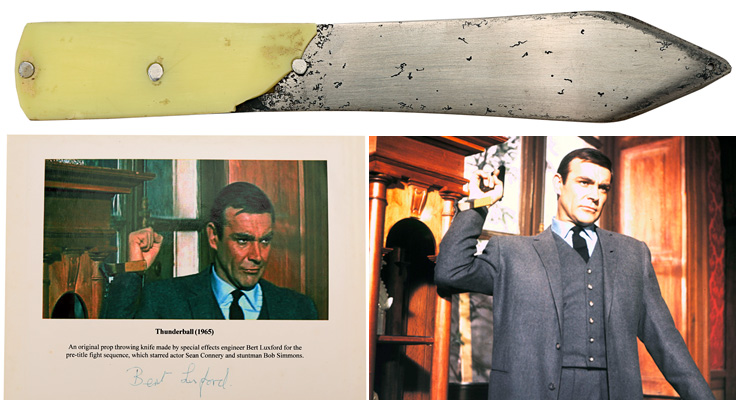 Colonel Jacques Bouvar's (Bob Simmons) throwing knife from Thunderball (1965). Colonel Bouvar used his throwing knife to pin James Bond's (Sean Connery) sleeve to a wooden cabinet during the pre-credits sequence. The knife comes from the personal collection of renowned special effects technician Bert Luxford.

The knife is made of steel with a yellow plastic handle. It is accompanied by a still from the film, signed by Luxford, who also explains its use in the film. The knife has some wear from production use and age, including scuffing and tarnishing to the blade. Parts of the plastic handle have come away, and one side features glue residue from where the knife was previously displayed in a frame. Dimensions: 18.5 cm x 0.5 cm x 3 cm (11¼" x¼" x 1¼") Estimate: £7,500 - £9,500 [unsold]
---
Lot #198 - SPECTRE Ring Thunderball (1965)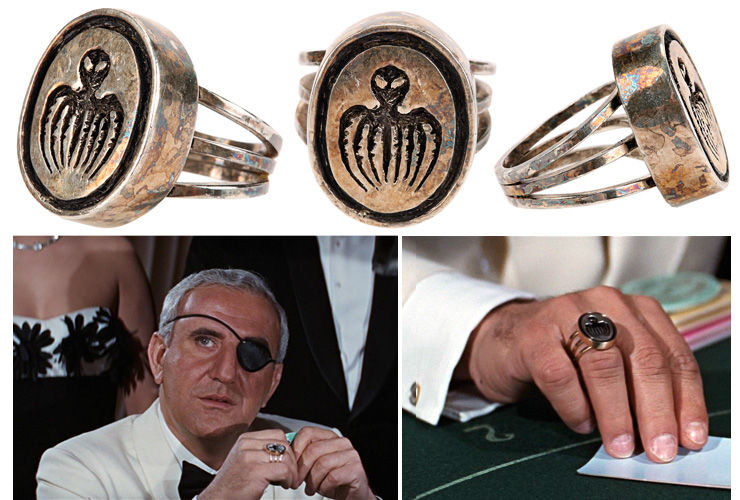 A SPECTRE ring from Thunderball (1965). SPECTRE agents, including Emilio Largo (Adolfo Celi), wore their rings throughout the film as the shadowy organisation attempted to steal two atomic bombs. This ring comes from the personal collection of renowned special effects technician Bert Luxford.

The metal signet ring features the iconic SPECTRE octopus logo stamped onto it, and was originally golden in colour. It has wear from production use and age, including minor scuffing and scratches. The metal has become tarnished over time and the gold has worn away. Dimensions: 3 cm X 1.5 cm X 2.5 cm (1¼" X ½" X 1") Estimate: £10,000 - £15,000 [sold for £20,000]
---
Lot #199 - Sean Connery's Screen-matched Anthony Sinclair Suit You Only Live Twice (1967)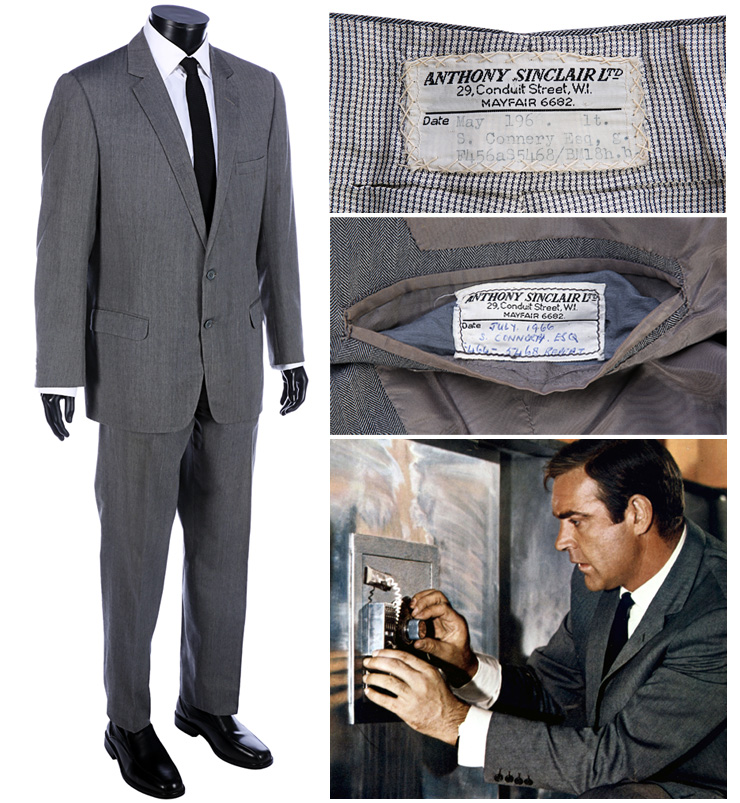 James Bond's (Sean Connery) screen-matched suit from You Only Live Twice (1967). Bond wore his suit in multiple scenes, from his arrival in Tokyo and his encounter with secret service agent Aki (Akiko Wakabayashi), up until Tiger Tanaka (Tetsuro Tamba) welcomed him into his home. A distinctive pinch in the jacket's left shoulder screen matches to the moment Bond met sumo wrestler Sadanoyama Shinmatsu.

It is rare for examples of Sean Connery suits to come up for auction, as many were taken from the set by the actor after producer Albert "Cubby" Broccoli stated he could keep any of the costumes he requested. This lot was initially obtained by a crew member, to whom it was likely offered for sale when production wrapped.

The grey herringbone woollen two-piece suit was custom-made by tailor Anthony Sinclair, who created clothing for all of Sean Connery's appearances as 007. The jacket features two button fastenings and three pockets on the front. An Anthony Sinclair label with handwritten blue text reading "July. 1966, S. Connery. Esq, 464 - 5468 Repeat" is located in the jacket's interior right-breast pocket. An additional label reading "May 1966, lt., S. Connery Esq, g., F456As5468/bm18h.b." is sewn into the trousers.

The suit's white cotton dress shirt and black knit tie are reproductions constructed by Turnbull & Asser, the same company that originally made the garments for the movie. Completing the display is a pair of smart black shoes. The suit displays minor signs of production use and age. Estimate: £50,000 - £70,000 [unsold]
---
Lot #200 - Colibri-made Wooden Golden Gun Master Model The Man With The Golden Gun (1974)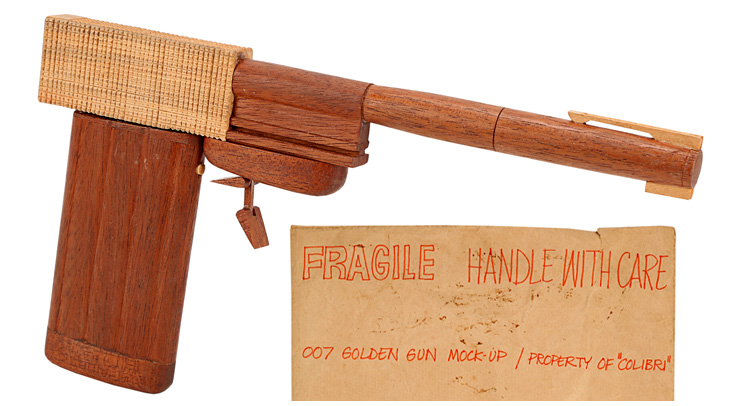 The Colibri-made wooden master model of Scaramanga's titular Golden Gun from The Man with the Golden Gun (1974). Francisco Scaramanga (Christopher Lee) used his golden gun - constructed from innocuous, everyday items - to assassinate his victims.

This wooden model was made by Colibri, a company which primarily manufactures cigarette lighters and jewellery. Colibri is credited with making the iconic gun seen in the film, although there are different stories from the production regarding its origins. One states that special effects expert John Stears made the gun from parts manufactured by both Colibri and pen manufacturer Waterman.

Another, told by the film's art director Peter Lamont, states that he designed and made an alternative wooden template as the finished gun Colibri constructed was rushed and tended to fall apart while being handled. Lamont then hired a London silversmith to make the three screen-used props. According to Lamont, although Colibri made a number of high-quality golden guns for promotional purposes, no Colibri-made weapon was featured in the final film. However, Stears' story and Colibri's official credit on the production disputes this.

This model was used as Colibri's master template for the iconic weapon, which featured heavily in the promotional campaign for the film, and has since become one of the most famous weapons in cinematic history.

After the production, it was gifted to the set designer of Scaramanga's kitchen.

The model is constructed from several wooden pieces, which are shaped like the items used in the film and glued together. It is accompanied by its original envelope, which has "Fragile Handle With Care - 007 Golden Gun Mock-Up/Property of 'Colibri'" handwritten in red ink on the front. The gun model has only very minor wear from production use and age, but it remains in a fragile condition, while the envelope has creasing, small tears and staining. Dimensions (gun): 25.5 cm x 13 cm x 1 cm (10" x 5" x½") Estimate: £4,000 - £6,000 [sold for £8,500]
---
Lot #201 - Astronaut Laser Rifle Moonraker (1979)
Lot #202 - US Space Marine Model Miniature Moonraker (1979)
An astronaut laser rifle from Moonraker (1979). Laser rifles were wielded by the US space marines and Drax's (Michael Lonsdale) space station guards during the climactic battle in space. A rifle was also one of the gadgets tested at the Q-Branch workshop located in a Brazilian monastery.

Based on an IMI Uzi submachine gun, the heavily customised, white-painted rifle is made predominantly of biscuit foam, with additional plastic and metal components. The weapon is decorated with silver strips at the front and also features red stripe decals.

Presented on a custom-made display stand, the rifle displays signs of age and production use, including cracking and wear to the paint finish. Some of the decals are peeling in places and the two selector switch components above the grip are loose. Dimensions (displayed on stand): 49.5 cm x 13 cm x 33 cm (19½" x 5" x 13") Estimate: £8,000 - £12,000 [sold for £8,000]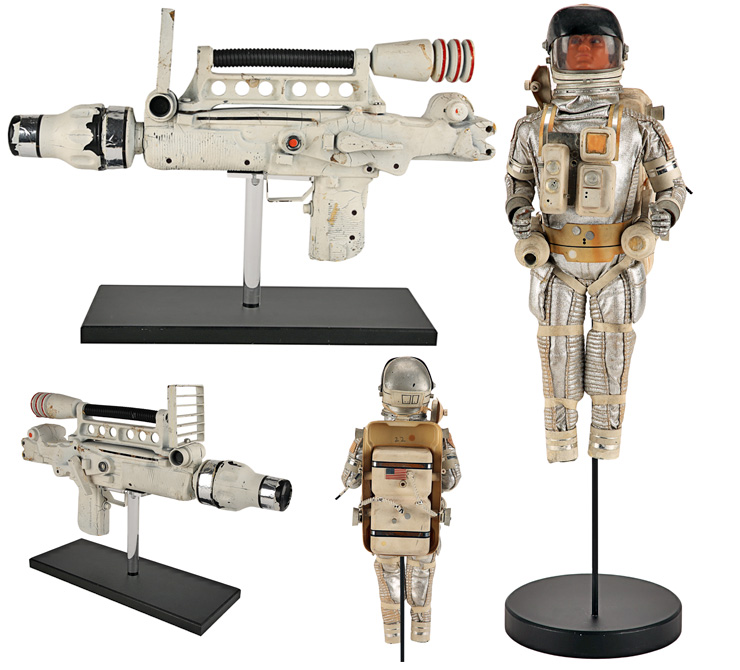 A US space marine model miniature from Moonraker (1979). Miniature versions of the US marines were used for certain shots during the laser battle in space against Drax's (Michael Lonsdale) space station guards.

Created by renowned visual effects supervisor Derek Meddings, the model consists of an Action Man doll wearing a silver spacesuit decorated with small patches on both sleeves, and a vacuum-formed plastic chest pack and backpack featuring small tube-like components. "22" is written on the inside of the backpack, which has a missing top section. The plastic helmet features a transparent visor section which reveals the figure's face, and the hands are painted silver to create the appearance of gloves.

The model is mounted on a black custom-made display stand. Some components are missing, including the feet, and the backpack's top right corner is slightly damaged. Signs of discolouration are present on parts of the suit, and the model exhibits paint wear. Dimensions (displayed): 43 cm x 12 cm x 16 cm (17" x 4¾" x 6¼")
Estimate: £6,000 - £8,000 [sold for £6,000]
Lot #678 - Toxin Vial Section Moonraker (1979)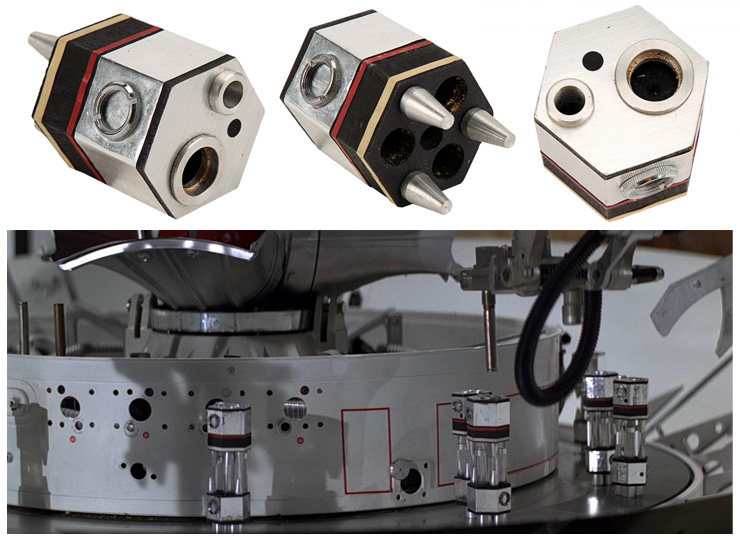 A toxin vial section from Moonraker (1979). James Bond (Roger Moore) witnessed the murderous effects of toxin vials made by scientists in Venice as part of Hugo Drax's (Michael Lonsdale) master plan to kill all life on Earth.

The black-painted wooden vial section features a silver foil strip adhered near the top, with red and cream striped decals beneath. Three protruding metal cone-like devices are attached to the bottom. The foil has bubbled up in some areas and the lot displays scratching and minor paint wear. Dimensions: 6.5 cm x 5 cm x 4.5 cm (2½" x 2" x 1¾") Estimate: £600 - £800 [sold for £2,500]
---
Lot #679 - Maurice Binder Archive: Collection of 35mm Opening Titles, Tests, Trailers, and Outtakes Footage Moonraker (1979)

A unique collection of 35mm footage from the production and promotion of Moonraker (1979). These film rolls and trims were used by Maurice Binder to create the trailer, teaser trailer and most memorably, the opening title sequence.

Maurice Binder designed the famous opening titles of 14 James Bond movies, beginning with Dr. No. He was also responsible for producing the iconic gun barrel sequence that has opened most of the James Bond films to date.

The collection comprises 20 metal film cans with labels, reference tape strips and some note pages. There are approximately 120 rolls - some on spools, some loose trims. Including magnetic soundtrack and black and white footage of scenes featuring Roger Moore, the space shuttle, skydiving, Venice, fighting and opening title graphics. The collection was acquired on closure of the storage facility for a UK distribution centre in 1998. Most of the celluloid remains in good condition, with a few rolls showing signs of age. Dimensions (largest can): 30 cm x 38 cm x 5 cm (15" x 15" x 2") Estimate: £2,000 - £3,000 [sold for £2,500]
---
Lot #685 - Octopussy's Circus Jacket and Sweatshirt Octopussy (1983)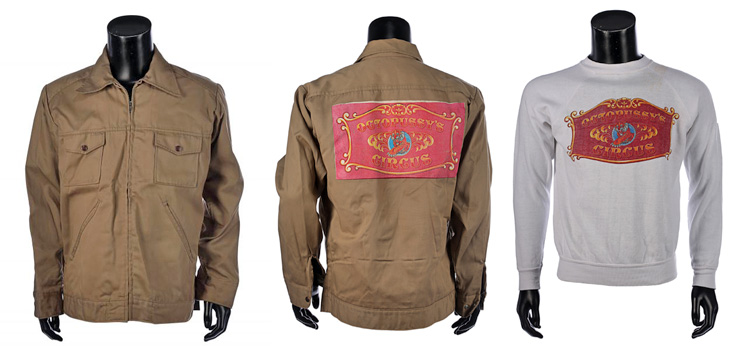 An Octopussy's Circus jacket and sweatshirt from Octopussy (1983). Members of Octopussy's (Maud Adams) Circus wore their branded jackets and sweatshirts when disembarking from the train before their show. James Bond (Roger Moore) wore a branded jacket when he posed as a circus crew member when everyone boarded the train in East Germany.

The beige poly-cotton Dickies® jacket is marked size 42R, features the circus' logo printed on the back and has a red faux-fur lining. The white women's sweatshirt also has the circus logo printed on the front and no labelled size. There are slight signs of fading to the logos and minor staining on the sweatshirt.
Estimate: £800 - £1,200 [sold for £1,500]
---
Lot #204 - James Bond's (Timothy Dalton) Dinner Suit The Living Daylights (1987)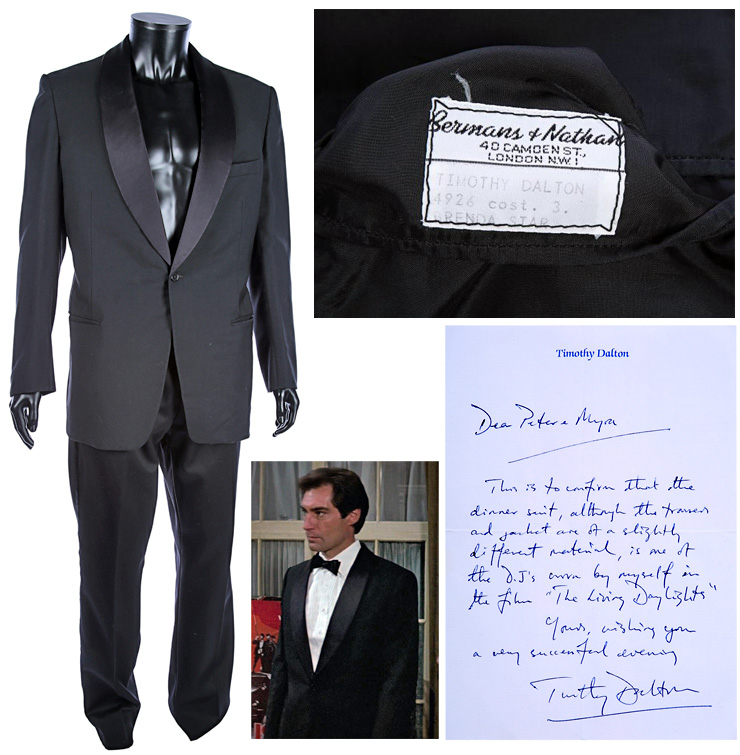 James Bond's (Timothy Dalton) dinner suit from The Living Daylights (1987). Bond wore his suit when he received his mission to aid the defection of General Georgi Koskov (Jeroen Krabbé).

This tuxedo was the first prize in a charity event raffle held in Berkshire in 1990. Dalton's jacket was originally intended for the romantic comedy Brenda Starr - shot in 1986 but not released for three years - but it was ultimately not seen in the film. Dalton then repurposed it for his subsequent production, The Living Daylights.

The black suit comprises a jacket with black satin lapels, and a pair of trousers. A Bermans & Nathans label is located in the right interior jacket pocket, displaying printed text that reads "Timothy Dalton, 4926 cost. 3., Brenda Star [sic]". The suit exhibits light wear with plucks down the trousers' side seams. The lot comes with a handwritten letter of authenticity from Dalton confirming its use in The Living Daylights, and assorted paperwork detailing its origin. Estimate: £3,000 - £5,000 [sold for £9,000]
---
Lot #689 Brad Whitaker's (Joe Don Baker) Jacket The Living Daylights (1987)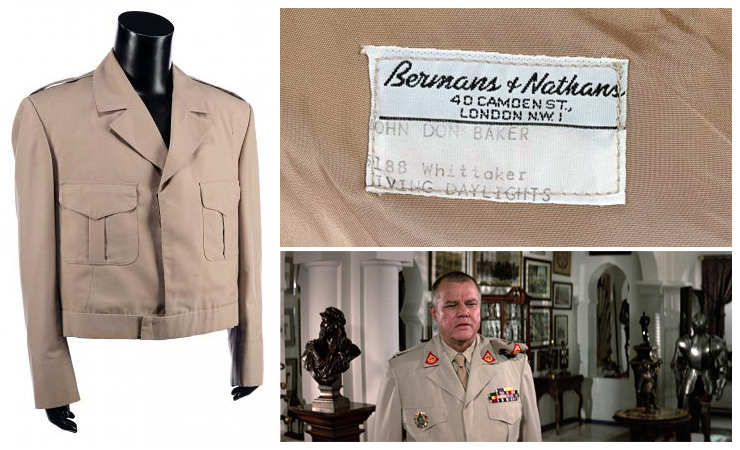 Brad Whitaker's (Joe Don Baker) jacket from The Living Daylights (1987). Arms dealer Whitaker wore his jacket throughout the film.

The woollen jacket is beige with four buttons running up the front. It features a Bermans & Nathans label which reads "John Don Baker 5188 Whittaker Living Daylights". It has no size labelling. The jacket shows some wear from production use and age, including small holes and marks where patches and pins were previously placed, as well as additional plucking. Estimate: £800 - £1,200 [unsold]
---
Lot #691 -Dario's (Benicio del Toro) Jacket Licence To Kill (1989)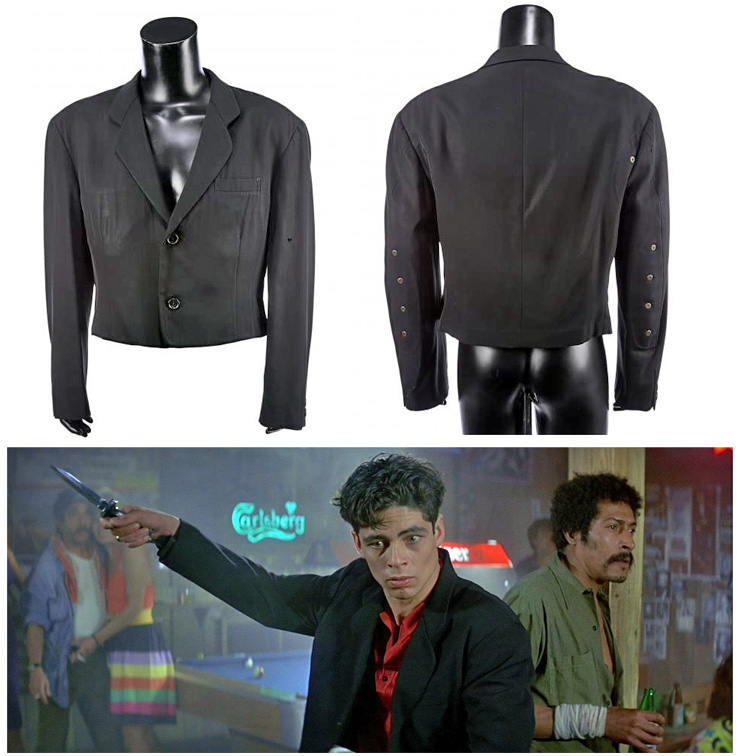 Dario's (Benicio del Toro) jacket from Licence to Kill (1989). Dario wore his jacket throughout the film, while working as a henchman to the villainous Franz Sanchez (Robert Davi). The jacket is made of black wool and features circular metal vents down the back and back of the arms. It has no size labelled, and shows some wear from production use and age, including some holes on the front left arm and back right arm, as well as some verdigris on some of the metal vents. Estimate: £600 - £800 [sold for £1,200]
---
Lot #697 - Colonel Tan-Sun Moon's (Will Yun Lee) Leather Coat Die Another Day (2002)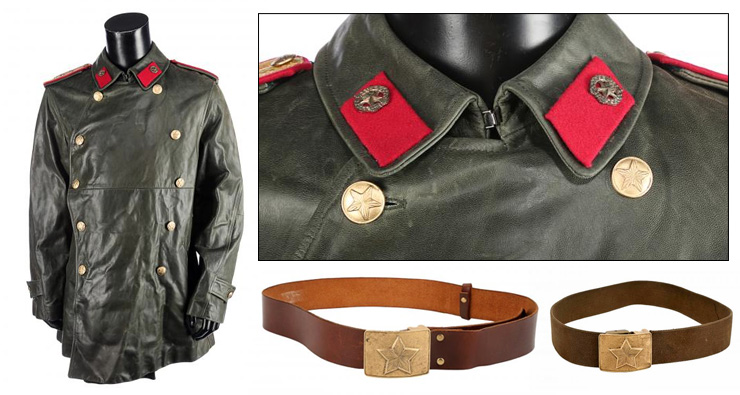 Colonel Tan-Sun Moon's (Will Yun Lee) leather coat from Die Another Day (2002). Colonel Moon wore his jacket during the film's opening sequence, when he met an undercover Bond (Pierce Brosnan) to trade diamonds for weapons.

The double-breasted Burberry coat is made from dark green leather, with red-and-gold lapels and metal buttons down the front. It is labelled size "48" and has been intentionally distressed to appear well worn.

The coat is accompanied by two belts: one leather and one canvas. Both feature metal buckles, and the leather belt has "38" and other illegible characters handwritten in marker pen on its inner side. All the items have wear from production use and age, including scuffing and scratches.
Estimate: £800 - £1,200 [sold for £800]
---
Lot #699 - Casino Royale $1,000,000 Poker Chip Casino Royale (2006)

A $1,000,000 poker chip from Casino Royale. James Bond (Daniel Craig), Le Chiffre (Mads Mikkelsen) and their fellow poker players used betting chips during (2006) the high-stakes game at the Casino Royale in Montenegro.

The plaque is made of blue pearlescent plastic and has a translucent red-and-yellow centre. "Casino Royale $1,000,000 Montenegro" is printed on both sides in a gold-and-black font. The chip displays light scratches. Dimensions: 11.5 cm X 8 cm X 0.5 cm (4½" X 3¼" X ¼")

Estimate: £2,000 - 3,000 [sold for £32,500]
---
Other Lots:

•
Lot #203 - Model Unit Clapperboard Octopussy (1983)
Estimate: £4,000 - £6,000 [sold for £4,000]
•
Lot #205 - MiG-29 Fighter Jet Model Miniature GoldenEye (1995) Estimate: £7,000 - £10,000 [unsold]
•
Lot #206 - Xenia Onatopp's (Famke Janssen) Helicopter Costume GoldenEye (1995) Estimate: £8,000 - £12,000 [sold for £9,000]
•
Lot #207 - Elektra King's (Sophie Marceau) Cheque, Casino Plaques, Chips and Notepad The World Is Not Enough (1999) Estimate: £4,000 - £6,000 [sold for £4,000]
•
Lot #208 - Fire-damaged Pinewood Studios 007 Soundstage Lettering 2006 Estimate: £4,000 - £6,000 [sold for £4,000]
•
Lot #671 - Three Contact Sheets Featuring Ursula Andress
Dr. No (1962) Estimate: £600 - £800 [sold for £600]
•

Lot #672 - Norman Wanstall Dubbing Casino Chips Dr. No (1962) Estimate: £800 - £1,200 [sold for £4,000]

•
Lot #673 - Two Contact Sheets Featuring Sean Connery and Ursula Andress Dr. No (1962)
Estimate: £600 - £800 [sold for £600]
•
Lot #674 - "No, Mr. Bond, I expect you to die!" Call Sheet and Dope Sheet Goldfinger (1964)
Estimate: £800 - £1,200 [sold for £4,750]
•
Lot #675 - Japanese Ninja Gyrojet Rifle You Only Live Twice (1967) Estimate: £2,000 - £3,000 [sold for £2,000]
•
Lot #676 - Henchman Hook Weapon You Only Live Twice (1967) Estimate: £600 - £800 [sold for £1,200]
•
Lot #677 - Reference Katana (Steel sword)
You Only Live Twice (1967)/Highlander (1986)
Estimate: £300 - £500 [sold for £4,750]
•
Lot #680 - Script, Storyboards, Production Paperwork, and Crew T-shirt For Your Eyes Only (1981)
Estimate: £600 - £800 [sold for £2,500]
•
Lot #681 - SFX Military Truck Model Miniature Octopussy (1983)
Estimate: £1,000 - £1,500 [sold for £1,800]
•
Lot #682 - Hand-drawn Circus Train Sequence Storyboards Octopussy (1983) Estimate: £400 - £600 [sold for £1,800]
•
Lot #683 - Script, Storyboards, Production Paperwork, and Collection of Crew Clothing Octopussy (1983)
Estimate: £600 - £800 [sold for £1,300]
•
Lot #684 - Octopussy Girl's (Carolyn Seaward) Arabian Costume Octopussy (1983) Estimate: £400 - £600 [sold for £3,500]
•
Lot #686 - Fourth-draft Script, Behind-the-scenes Photographs and Production Paperwork Octopussy (1983)
Estimate: £600 - £800 [sold for £1,400]
•
Lot #687 -Necklace Crew Gift and Seven Behind-the-scenes Photos A View To A Kill (1985)
Estimate: £200 - £300 [sold for £275]
•
Lot #688 -Storyboards, Call Sheets, and Production Ephemera
A View To A Kill (1985) Estimate: £400 - £600 [sold for £1,300]
•
Lot #690 - Archive of Production Paperwork The Living Daylights (1987) Estimate: £600 - £800 [sold for £1,900]
•
Lot #692 - Production Revised Script, Call Sheets and Storyboards Licence To Kill (1989) Estimate: £600 - £800 [sold for £1,500]
•
Lot #693 - Collection of Hand-drawn Storyboards Licence To Kill (1989) Estimate: £600 - £800 [sold for £1,100]
•
Lot #694 - Scripts, Storyboards, Production Paperwork and Crew Jacket GoldenEye (1995)
Estimate: £800 - £1,200 [sold for £3,000]
•
Lot #695 - James Bond's Model Miniature Cessna 172P Skyhawk Plane, Revised Script and Storyboards GoldenEye (1995)
Estimate: £1,500 - £2,500 [sold for £1,800]
•
Lot #696 - James Bond Stunt Double Leather Jacket and Crew Items Tomorrow Never Dies (1997)
Estimate: £800 - £1,200 [sold for £2,250]
•
Lot #698 - Deck of 'One&Only' Playing Cards Casino Royale (2006) Estimate: £200 - £300 [sold for £6,000]
•

Lot #700 - Casino Royale $500,000 Poker Chip Casino Royale (2006) Estimate: £2,000 - £3,000 [sold for £17,000]

•
Lot #701 - Vesper Lynd's (Eva Green) International Liaison Officer HM Treasury Business Cards Casino Royale (2006)
Estimate: £200 - £300 [sold for £1,800]
•
Lot #702 - Sam Mendes autographed Day of the Dead Crew Poster Spectre (2015) Estimate: £600 - £800 [sold for £1,600]
Prop Store Entertainment Memorabilia Live Auction 9th - 11th November 2021 - Full Catalogue