It recently became the biggest film in British cinema history, now Skyfall will be just the ticket for train travellers.

To mark its unprecedented success at the UK box office, Skyfall will become the first film in the UK to permanently give its name to a train. The East Coast train was unveiled on Platform 007 at King's Cross Station by the stars of the 23rd James Bond instalment, to coincide with the film's release on Blu-ray and DVD on Monday 18th February.

Skyfall star Naomie Harris (Moneypenny) alongside Skyfall writers Neal Purvis & Robert Wade and co-producers Barbara Broccoli and Michael G. Wilson, officially unveiled East Coast train 91007, the London to Edinburgh service that will be permanently named 'SKYFALL' and wrapped in its stunning artwork, celebrating 50 years of classic train scenes in Bond movies.

The unique partnership between Twentieth Century Fox Home Entertainment, MGM Studios and East Coast Trains will see all eleven carriages of the train wrapped in stunning artwork from Skyfall , with the film's stars and creative talent taking its maiden journey to Scotland, mirroring Bond and M's journey in the thrilling final act of the film.

James Bond has had no shortage of train adventures on the silver screen, from high speed chases on locomotive rooftops in Octopussy to fateful encounters in First Class in Casino Royale, via Roger Moore's epic fight with Richard Kiel's Jaws in The Spy Who Loved Me, so 007 has always favoured life on the rails.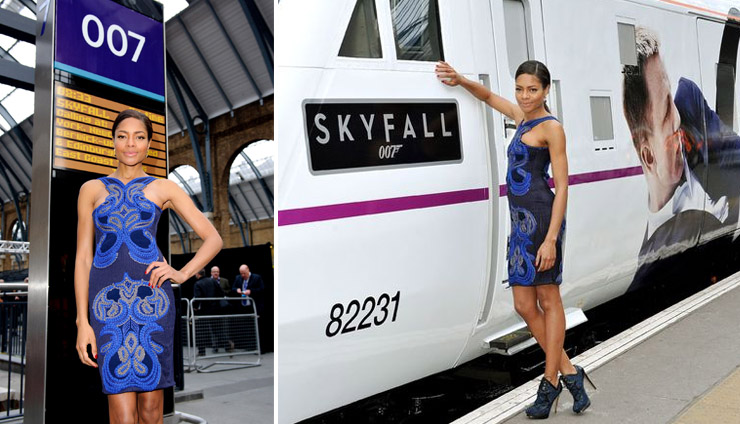 Skyfall's first journey will be taken by international journalists who will interview the stars and writers in the specially branded First Class carriages. Skyfall Martini cocktails will be served by Savoy mixologist Erik Lorincz, who designed the cocktail for the film, whilst one carriage will become a dedicated Blu-ray screening lounge, where journalists will be able to watch the film and navigate the Bonus Features. There will be a champagne reception when the train crosses the Royal Border Bridge in Berwick Upon Tweed, which bears a striking resemblance to the Royal Varda Bridge featured in Skyfall's classic opening sequence.

Members of the public will then have the chance to ride in the Skyfall train from Sunday 17th February, as it goes into active service on the 'Flying Scotsman' route from Edinburgh Waverley to London King's Cross, which completes the journey in just four hours.

Skyfall itself features two classic train set pieces – a thrilling chase on the Istanbul Railway in the opening sequence, along with an epic London Underground sequence in which a 70 tonne train literally goes off the rails when villain Silva (Javier Bardem) wreaks havoc in the underground network.

Skyfall is released on Blu-ray and DVD on Monday 18th February from Twentieth Century Fox Home Entertainment and MGM Studios.