BOYD ON BOND
007 MAGAZINE's Luke Williams reports from the Queen Elizabeth Hall as William Boyd is quizzed by GQ Literary Editor Olivia Cole, and the audience, about his new James Bond novel SOLO.

The launch of a new James Bond novel is always an event to stir excitement in the heart of a committed Bondophile, albeit with the caveat that the law of diminishing returns means such optimistic excitement is usually followed by crushing disappointment. If the works of Gardner, Benson, Faulks, Deaver et al have taught us anything, it's that no matter how hard a 'continuation author' tries, no matter how respectful they are to the original canon, or how accomplished their previous work is, the finished product is never a patch on even the weakest work of Ian Fleming. Still, we live in hope that we may, one day, have a Bond novel worthy of the originals to savour; or perhaps even a novel that lives up to by far the best continuation novel we have yet seen, Kingsley Amis' COLONEL SUN.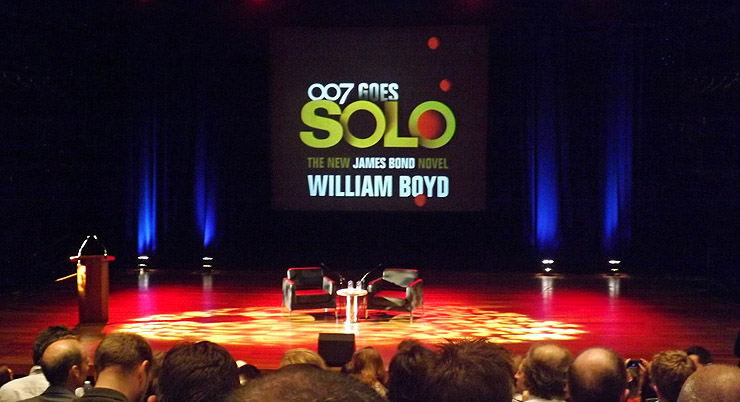 On the basis of his solid literary career and surefooted appearance in front of a packed Queen Elizabeth Hall on Thursday 26 September, Boyd has as good a chance as any author of producing a Bond novel to rank with the originals. His charming, witty and occasionally self-deprecating performance while being quizzed by the evening's host (the rather delectable Literary Editor of GQ, Olivia Cole) was certainly as entertaining, as his knowledge of the Fleming oeuvre was impressive.
Fleming's niece Lucy opened proceedings by speaking glowingly of Boyd's "incredible knowledge of Bond and my uncle", before claiming that SOLO "has all the essence of Fleming and more" as well as "style and panache" and offering the opinion that Fleming himself would be "looking down, or up, with a large smile on his face". Fleming's short introduction was followed by an over-long intro to Boyd's career by Cole, which was read from her ring-file binder while the author sat, smiling approvingly, next to her - creating the somewhat odd impression that we were watching an A-Level English student read an essay aloud to her approving father or teacher.
Perhaps because this section of the evening went on so long ('A' for effort, agent Cole; D minus for mis-identifying OHMSS as ON HIS MAJESTY'S SECRET SERVICE…), it came as something of a relief when Boyd himself was finally allowed to speak and outline how his interest in Fleming's work had developed from a schoolboy habit of reading the original novels aloud in his prep school dorm into an adult obsession. "I [returned] to Fleming through my enthusiasm for Evelyn Waugh," Boyd explained. "Fleming and Waugh didn't really like each other, but they had something in common – they were men in a hurry to die. They were case studies of a certain type of Englishman who seemed to have everything… but were afflicted by misanthropy."
In remarks that could be interpreted as either refreshingly honest or sacrilegious, depending on how one-eyed a Bond fan you are, Boyd then gave a forthright assessment of Fleming's flaws and virtues. Describing his novels as "uneven", he also identified a tendency for Fleming to "throw a coincidence" into his narratives too often. "The novelist in me goes, tut, tut, that won't do!" he admitted. "Coincidences are the easy way out of a tight corner. Although [as a novelist] I think you're allowed at least one coincidence."

These criticisms, however, were balanced by fulsome praise for Fleming's stylish prose ("great passages of scene setting") and his respect and admiration for the characterisation of Bond himself. "The great thing [Fleming] did was character," he enthused. "Bond is not a crude caricature. His complexities make him more than the blunt instrument superspy [of the films]… Bond is also no fool. Fleming described his flat as book-lined, he's quite well-read. [Bond makes] references to Milton's PARADISE LOST, to Ralph Waldo Emerson, Lafcadio Hearn… He's also damaged. Would you want to marry a potential suicide? Clearly Bond did [A reference to Tracy in OHMSS]. He has complexities … he weeps, he vomits … he seems attracted to women who seem troubled."
Turning more specifically to SOLO, Boyd explained that he mined "throwaway lines and half lines" in the original novels in order to help him flesh out Bond's wartime experiences and explore the "haunted forest of memory" in the secret agent's psyche. "I have the fictional character James Bond join the real unit founded by Ian Fleming," he explained. "I'm definitely not Bond, but you use your imagination. If it functions well you can become someone else. I've never killed a man although I've killed countless people in my novels!"
Boyd also addressed the charges that he had made the character of Bond in SOLO (set in 1969) too 'politically correct'. Courting controversy, and the potential ire of 007 fans, he described Fleming as "an unreflecting racist, sexist, probably anti-Semite, right-wing homophobe", while stressing that these attitudes were borne out of his social class and background, and not out of malice. "It is difficult because Bond is a creature of that Edwardian English hegemony," he continued. "[But] Bond is no fool. His attitudes would have changed to a degree. You couldn't have stuck in a rut living in Chelsea in the 1960s! The late 60s was a very interesting period in history. I position the novel by referring to little details of the time, the social reality of 1969."

Identifying his primary intention as being to write "a realistic novel about a real person… a real gritty spy novel", Boyd also stressed that he didn't want to "write an implausible spy caper. As a consequence, he pointed out the villain in his novel, Kobus Breed, was "not a Blofeld or someone running a global crime organization". Boyd also emphasized that he was keen to "keep this gap between film Bond and literary Bond". "Film is a world of compromise and parameters," he pointed out. "Daniel Craig is a brilliant actor, but even Daniel cannot replicate the nuances of a simple paragraph in a novel."
As the evening drew to a close with an audience Q and A, Boyd just had time to pronounce FROM RUSSIA, WITH LOVE, which he first read in a mood of "panting pre-adolescent rapture", as the best Bond novel ("a real spy story, structurally and in writerly terms his best"), as well as profess a soft spot for Fleming's final and much-maligned novel THE MAN WITH THE GOLDEN GUN. In perhaps his most worrying assertion of the evening for Bond purists, he also surprisingly dismissed Amis' COLONEL SUN ("I don't think it's that great") while admitting that he was "really impressed" with Sebastian Faulks' DEVIL MAY CARE ("he did an incredibly thorough job").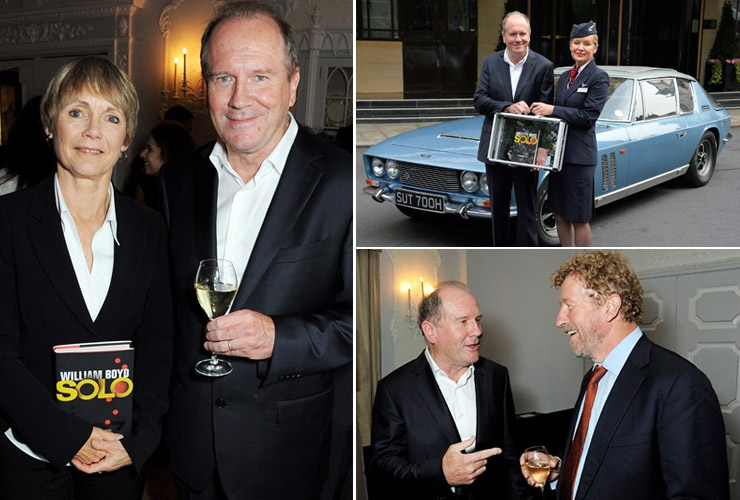 ABOVE: London 25th September 2013 - (left) Lucy Fleming with William Boyd at the launch of SOLO held at the Dorchester Hotel. (top right) William Boyd alongside a period costumed BOAC airhostess and one of the seven signed copies of the book delivered in a convoy of vintage Jensen sports cars to Heathrow Airport. The books were destined for delivery to seven key cities across the globe with connections to Bond or Boyd: Edinburgh, Amsterdam, Zurich, New Delhi, Los Angeles, Cape Town and Sydney. (bottom right) William Boyd chats with Sebastian Faulks, whose James Bond continuation novel DEVIL MAY CARE was published in 2008.
When asked to comment on the publicity whirlwind surrounding the launch of SOLO, Boyd was at his most endearing, chuckling: "I never imagined 7 Jensen Interceptors leaving the Dorchester hotel to put books into a case to be flown on jumbo jets! Bond is truly global. [When people think of Britain] it's Big Ben, the Queen, Bond and Princess Diana. Everybody knows the name of James Bond." They certainly do, and 60 years since the publication of CASINO ROYALE, the Bond book industry shows no signs of drawing to a close.
SOLO is available now and will be reviewed soon by 007 MAGAZINE.