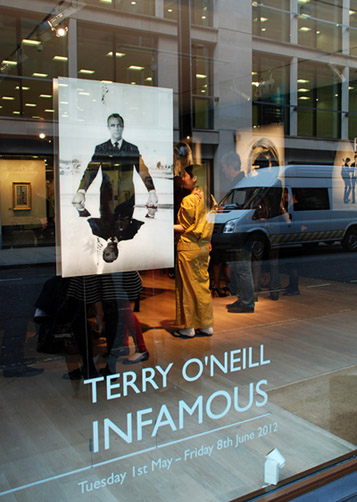 If one photographer can be said to have defined the swinging showbusiness scene of the 1960s then that photographer is the East End born Terry O'Neill, who has photographed every James Bond from Connery to Brosnan (including David Niven!) 007 MAGAZINE's LUKE WILLIAMS was at the opening of O'Neill's new exhibition INFAMOUS in Mayfair this week ahead of his eagerly anticipated book ALL ABOUT BOND, which will be published later this year.
Few photographers can match the CV of the legendary Terry O'Neill and, wandering around the stunning exhibit of his work currently showcased at Alon Zakaim Fine Art gallery in Dover Street, Mayfair, it was immediately evident that one of the secrets of his success is his ability to capture major stars and celebrities when they are at their most relaxed, resulting in a photographic style that is disarmingly candid without compromising any of the glamour one expects from the likes of Connery, Sinatra and Brigitte Bardot. As O'Neill himself has stressed: "My works portray the featured stars as they really are, not how we often see them, distorted by their management and the paparazzi."
The intimate surroundings of the Alon Zakaim gallery are a perfectly elegant setting for a collection that combines some of O'Neill's most iconic work, such as his justly famed shot of a bikini-clad Raquel Welch on a crucifix, along with previously un-exhibited material, including some jaw-dropping shots of Muhammad Ali, Kate Moss and Audrey Hepburn.
For the Bond aficionado, INFAMOUS is a delightful amuse bouche ahead of the main course of an entirely 'Bond-centric' exhibition of O'Neill's work which is scheduled to open at the Proud gallery, Chelsea in September and the forthcoming publication of his book ALL ABOUT BOND (of which 007 MAGAZINE has viewed an advance copy and can confirm that it contains a collection of sumptuous photographic material which is not to be missed by any serious Bond fan!)
Among the Bondian highlights of INFAMOUS are a stylish black-and-white shot of Connery, taken during the filming of Diamonds Are Forever in Las Vegas, looking every inch Ian Fleming's Bond as he stands with his hands leaning on a Ford Mustang, his image reflected in the bonnet. Equally striking is a giant 48" by 72" full colour shot of Connery on the phone while reclining in a Vegas hotel bathtub, taken on the set of Guy Hamilton's 1971 Bond epic at Pinewood Studios. O'Neill has described Connery as being "as cool and suave off set as he was in character" and looking at these shots it's impossible to disagree! Two shots of a quite delectable looking Ursula Andress lying on a roulette table and surrounded by bank notes on the set of the 1967 spoof version of Casino Royale also add some requisite Bond girl glamour to the exhibition.
INFAMOUS is a must-see for Bond, cinema and pop culture fans alike, but move fast, as the exhibition closes on 8 June.
An in-depth and exclusive interview with Terry O'Neill will be published in 007 MAGAZINE issue 55 in which he reflects on his experiences photographing stars from the world of James Bond, including his memories of George Lazenby dropping his trousers and nights out in Las Vegas with Sean Connery.
Terry O'Neill INFAMOUS is at Alon Zakaim Fine Art, 5-7 Dover Street, London W1S 4LD until 8 June 2012.
ALL ABOUT BOND (Photographs by Terry O'Neill, edited by Deborah Moore and Robin Morgan) will be published later this year by Evans Mitchell Books. Purchase ALL ABOUT BOND
PHOTOGRAPHS/GRAHAM RYE