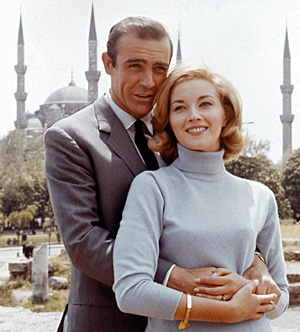 Sean Connery and Daniela Bianchi posing in front of the Hagia Sophia in 1963.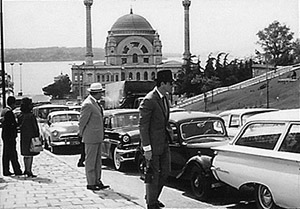 Pedro Armendariz and Sean Connery in a scene deleted from the final cut of From Russia With Love.
James Bond in Istanbul
From Russia With Love (1963)
The film was shot on location in Istanbul in 1963 and includes lots of sweeping scenes of the City. James Bond visits the airport, the railway station, the Grand Bazaar, Hagia Sophia and sails down the Bosphorus.
• During production in 1963 Ian Fleming took Dana Broccoli sightseeing on a boat on the Bosphorus. Ian Fleming had a great knowledge of the city as he had been on an assignment as a journalist the year before. He based the character Kerim Bey on his friend, Oxford-educated, Nazim Kalkaren.
• In Cubby Broccoli's autobiography (The Man Who Brought James Bond 007 to the Screen), he says that in Istanbul, Ian was in his element. "He loved the sounds, the spicy smells, the bazaars, the street merchants and the belly dancers…".
• The crew were shooting in Turkey for 22 days 22nd April - 13th May 1963.
• On the 29th and 30th April the crew were shooting the exterior of a narrow alley and outside the Sehzade Mosque, at night.
• Other Turkish locations include Halkali region in Istanbul, kabatas ferry, Pendik (Istanbul province), Adriatic Coast.
• In Cubby's autobiography he writes that From Russia With Love gave him the opportunity to shoot in one of the world's most exotic places, Istanbul.
The World Is Not Enough (1999)
The crew were shooting in Istanbul for 8 days and locations included the Galata Tower, Karakoy Customs Port, Kasimpasa / Kasimpasa Ferry Terminal, apartment and embankment by Kiz Kulesi, Vogue Restaurant, Scaffold Tower (by Salacak Fisherman's Harbour), Kucuksu Kasri (Electra's Villa), Maiden's Tower, shots of the Istanbul rooftops.
• M was held captive in the Maiden's Tower
• James Bond has returned to shoot at Eminonu Spice Market for Skyfall.