On Friday night Skyfall, the 23rd Bond film in the EON series, was previewed for the first time in front of an audience of critics and the world's media. 007 MAGAZINE was in attendance for this historic event and Luke Williams is happy to report that Daniel Craig's third Bond film is a sure-fire winner.
WARNING! In accordance with Sony Pictures' wishes, this review avoids major spoilers. However, if you want to see Skyfall without any background information or knowledge of the plot at all it's best to stop reading now.
A palpable sense of anticipation was in the air at the ODEON Leicester Square on Friday evening as, two weeks ahead of its general release in the UK and 12 days ahead of its official world première at the Royal Albert Hall, Skyfall was screened in front of what Marc-Ange Draco would doubtless describe as "distinguished members of the world's press". Before the screening began Peter Taylor, Managing Director of Sony Pictures UK, took to the stage to plead with the audience to keep their own counsel after the film and "allow the general public to enjoy the film the way you will tonight", only adding to the feverish expectation that what we were about to see was a Bond film with an unusual amount of unexpected twists and turns.
Fast forward 2 hours and 22 minutes and the consensus opinion among the critics as they crowded the foyer of the ODEON to re-claim the mobile phones they hadn't been allowed to take into the auditorium and prepared to file their copy, was that Sam Mendes' epic debut as a Bond director most definitely represents a return to form for the series, four years after the release of the disappointing Quantum of Solace. By the time the Saturday newspapers were publishing their rave reviews, it was becoming clear that this was a Bond film which, for many, stands valid comparison with the best half a dozen entries in the franchise. It's a judgement with which I'd concur and in the year that James Bond celebrates 50 years in the cinema, you couldn't ask for much better than that! Most refreshing of all, Skyfall is a Bond film which dares to do something different - delving into aspects of its central character's back-story, psyche and background that have never before been explored on film, or even in Fleming's original novels - while also supplying the requisite glamour, action, sex and suspense that fans expect from an evening in the company of the world's most famous secret agent.
It's my contention that the tone of a Bond film is the hardest thing to get right - too flippant (à la Moonraker) and you lose all sense of reality; too serious (à la Quantum of Solace) and the glamour evaporates, leaving you with nothing more than a hollow series of action sequences; equally fatally, if you attempt but fail to balance humour and seriousness, you risk a fiasco like the irredeemably awful Die Another Day. It's therefore to Mendes' credit that he gets the tone and tenor of Skyfall spot on; this is a Bond film which provides some outrageous spectacle, as well as incorporating some bizarre almost surreal touches which would be at home in a Fleming novel, as well as some killer one-liners reminiscent of the Connery era at its best. However, this is also a film which maintains an admirable seriousness of intent, most notably in its determination for its characters to have three dimensions, rather than act as bland ciphers or clothes horses. Skyfall never becomes too light-hearted but, equally, the joyless earnestness that plagued Quantum of Solace has been banished. It might sound like a contradiction in terms, but perhaps the best way I can characterise Skyfall is to call it a 'serious romp'!

It helps that the film begins with a breathless bang; a brilliantly choreographed, filmed and edited 12 minute-long pre-credits sequence that incorporates a foot-chase through Istanbul's Eminonu square, a motorbike pursuit through the Grand Bazaar and a physical confrontation on the top of a speeding passenger train - with a mechanical digger thrown in for good measure. The sequence climaxes in a cracking cliff-hanger which leaves Craig's Bond literally falling from the sky and into Daniel Kleinman's brilliantly moody titles sequence, which are lent appropriate atmosphere and resonance by Adele's title song, a slow-burning Bondian ballad that might not be a classic but does get better every time I listen to it. Mendes' stated preference for scenes involving "parallel action" (so that the viewer is "never locked into a linear chase") is established from the outset and it's an approach that pays dividends, allowing the seriousness and tension of Bond's plight to be inter-cut with field agent Eve's attempts to offer back-up, while the pair also try to keep 'M' and Tanner back at MI6 headquarters in London informed about their progress. The inter-cutting between three perspectives is masterfully handled by editor Stuart Baird (thankfully back on board with the series after being inexplicably absent for Quantum of Solace), allowing the viewer to pause for breath and laughs, as well as enabling the film to establish a surefooted balance between humour, suspense and action.
From thereon in Skyfall never ceases to entertain. Truth be told, the screenplay's main MacGuffin (a missing hard drive which contains the identities of British agents) is pretty serviceable, but it nevertheless serves as an effective plot trigger for an original and engaging scenario in which MI6, and Judi Dench's 'M' in particular, come under increasing attack, as well as political pressure. The ultimate enemy, of 'M', Bond and MI6, as you probably already know, proves to be Javier Bardem's Silva, but as for his motives, well, I'm heeding Sony's warning and keeping schtum about that!
Chief among Skyfall's strengths is its screenplay - series regulars Neil Purvis and Robert Wade as well as acclaimed and Oscar-nominated playwright turned screen scribe John Logan all deserve credit for their deft characterisation, consistently sharp dialogue and a plot which maintains more of a mysterious, suspenseful tone than is usual for a Bond film. If the basic scenario perhaps echoes Mission Impossible: Ghost Protocol a touch too closely, and the emphasis on almost uniformly emotionally 'damaged' characters perhaps bring to mind a little too readily the approach of Christopher Nolan's Batman trilogy, then that's probably more down to coincidence than intent - and, in the case of the latter, a Bond film which stands comparison quality-wise to Nolan's accomplished reinvention of Batman is certainly something to be welcomed.
As well as maintaining an appropriate tone, director Mendes also deserves immense credit for coaxing a range of strong performances from a stellar cast. Craig's Bond impresses immensely, as he did in his two previous outings. Here he is more sober and world weary than before, echoing Timothy Dalton or the literary Bond of the final three Fleming novels. For the majority of the film, as one character says of him, Craig's Bond is "barely held together" by "pills" and "drink", and although Craig looks too ripped and buff for an agent who is meant to have lost his professional mojo, the stubble that he sports is an appropriate symbol of this more uncertain 007's confused state of mind while his piercing blue but frequently pained eyes provide a perfect window to the character's inner torment. At times Craig's characterisation is so downbeat that you wonder whether he'll alienate portions of the audience, but whenever his performance threatens to become too gruff, a well-timed character note (whether it be a subtle adjustment of his cuff-links or a flick of the gear lever of his Aston Martin DB5) reminds us that underneath the tough, prickly exterior, Craig also possesses the effortless cool that has always and should always characterise the cinematic 007.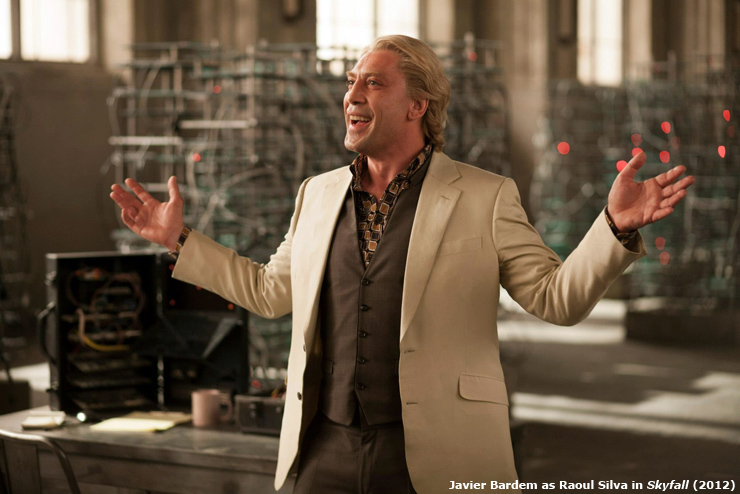 Thankfully, Craig's Bond finds, in Javier Bardem's Silva, his perfect enemy. Bardem is, quite simply, brilliant. By turns malicious, manipulative, camp and, at one point, strangely moving, his performance is flamboyant without ever straying into stereotype or pantomime. His opening monologue is a tour de force and the memory of his presence lingers menacingly in the viewer's consciousness, even when he is off-screen for fairly long stretches of time. At times, perhaps deliberately so, Bardem appears to be channelling the spirit of Heath Ledger's Joker or Anthony Hopkins' Hannibal Lecter. Lest we forget, both these performances were rewarded with Academy Awards, and Bardem's work is easily in the same league. If there was any justice in the way Bond films were appraised by the Academy of Motion Picture Arts and Sciences, then the Spaniard would also be in line for a statuette.
Among the rest of the cast, Judi Dench is, for me, one of the biggest surprises. Regular readers of 007 MAGAZINE will know that I'm no fan of her portrayal of 'M' or of the re-imagining of the character as a vaguely sentimental matriarch rather than a frosty patriarch. Furthermore, I seem to be one of the few people in the world who thinks of Dench as a relatively limited actress rather than an acting powerhouse/national treasure. However, despite my oft-stated bias against Dench, I have to admit that Skyfall, more than any of her previous Bond films, goes some way to justifying such a re-imagination of the 'M' character, providing her with a harder more ruthless edge than ever before. For my money, it's her strongest performance in a Bond film. As for the Bond girls they are also well up to par; Bérénice Marlohe's brittle and haunted Severine has less screen time than her compelling performance deserves, but she makes the most of every second in the spotlight, while Naomie Harris' Eve is an able sparring partner for Bond, providing some of the film's more amusing moments. Ben Whishaw's 'Q' is a consistently geeky delight. His introductory scene opposite Craig in the National Portrait Gallery is great fun and Whishaw is granted some of the film's best lines, handling them all with equal aplomb. Elsewhere, Ralph Fiennes oozes class as Mallory, as well as providing an air of enigmatic mystery, while Albert Finney is a hoot as Kincade - radiating warmth and gruff charm, as well as bringing the house down with my favourite line in the film, a line which Sean Connery and all Caledonians will love!

One of the most refreshing aspects of Skyfall, particularly for a born and bred Londoner such as myself, is the way that the film utilises, for the first time in the 50 year history of the Bond series, the full cinematic potential of the city. Craig himself has stated: "London has a real character and that excites me because I love this city and I think it is so rarely represented well on film. We were aiming to capture the madness, the mystery, the danger, and the glamour of London." It's a lofty ambition which the film fulfils, without ever once sinking into the trap of relying on the type of cliched "stage Englishness" which Ian Fleming himself once specified the Bond films should avoid. To cite one such example of how London is effectively used, the extended action sequence in the London Underground is all the more thrilling for taking place in such a recognisable milieu.
Indeed, there's a tangible and delicious British flavour to the film as a whole; daringly, the climax takes the cinematic Bond, for the first time, to the roots of the literary character in Glencoe, Scotland, where the misty mountains and beautifully stark landscapes provide a striking and atmospheric visual backdrop to the film's final conflicts. The concept of Britishness is also a thematic strand. In much the same way as some of Fleming's work questions Britain's role in the world before re-affirming it and glorifying in Bond's status as a true British hero, so Skyfall also engages with such ideas. In the way that Craig's tortured and falling apart at the seams 007 flirts with psychological destruction before emerging triumphant, you could argue that Skyfall is a spiritual cousin of that most allegorical and gothic of all the Bond novels, YOU ONLY LIVE TWICE. It certainly possesses some of the same mythic grandeur, with Craig's Bond channelling the spirit of St. George as he seeks to slay Silva's evil dragon.
The subterranean nature of many of the locales, from the waters into which Bond plunges in the pre-credits sequence to the emergency MI6 headquarters, the London Underground and the escape tunnel in the Skyfall lodge, also provide a perfect visual metaphor for the way the film delves under the surface of Bond's persona to reveal new shades and depths of the character. Every location, whether in Britain or abroad, as well as Dennis Gassner's accomplished sets, are immeasurably enhanced by Roger Deakins' stunning photography and peerless eye for composition and light. From Macau to Shanghai, Glencoe to London, a Bond film has never looked this good, and yet, as dazzling as it is, the photography never distracts us from the main narrative, instead only serving to enhance our enjoyment of it.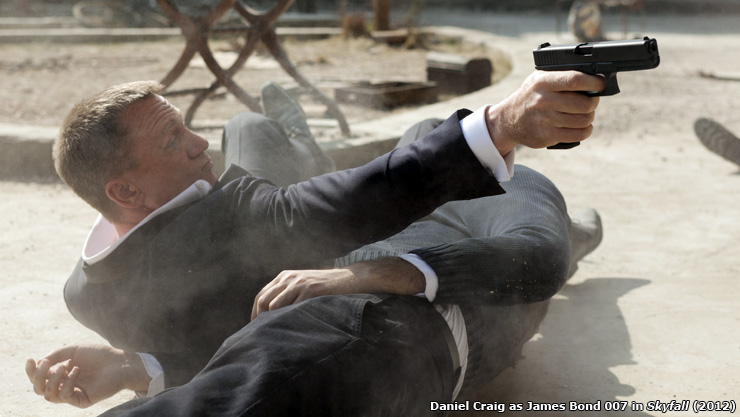 As you would expect from a 50th anniversary offering, Skyfall seeks to satisfy the fans with some knowing nods to previous films, as well as by re-working and re-configuring classic elements of the original series for the re-boot era; this approach is most successful in the way the Aston Martin DB5 is utilised (the re-appearance of one of the car's signature gadgets for the first time since 1964 drew a huge cheer from the preview audience) and the way that the MI6 set-up is re-configured in the final scenes. Meanwhile, in a poignant and appropriately under-stated tribute to the late John Barry, his Cadogan Square home is glimpsed on screen as 'M''s house.
True, Skyfall is not perfect - the denouement flirts too openly with sentimentalism for my liking, the knowing tone of the screenplay occasionally veers into smugness and Thomas Newman's frequently hyperactive and seldom coherent musical score will soon have faded (thankfully) from my memory. However, in the final analysis, these are relatively minor quibbles. The truth is, Skyfall is a triumph. It's a film which sustains the re-invention and re-imagining of the series as more character-led and emotionally complex without ever compromising the traditions and values of entertainment, fun and escapism on which the series was built in the first place. Broccoli, Wilson, Mendes, Craig et al - take a bow!