28 March 2015

SPECTRE Teaser trailer released
27 March 2015

SPECTRE to be released worldwide in IMAX
IMAX Corporation, Albert R. Broccoli's EON Productions, Metro-Goldwyn-Mayer Studios and Sony Pictures Entertainment today announced that SPECTRE, the twenty-fourth installment in the James Bond franchise, will be released in IMAX theatres globally on Nov. 6, 2015.

In SPECTRE, from director Sam Mendes, Daniel Craig returns as the iconic British spy James Bond 007. Joining Craig are returning cast members Ralph Fiennes as M, Naomie Harris as Eve Moneypenny and Ben Whishaw as Q, along with a new cast, including Christoph Waltz, Monica Bellucci and Lea Seydoux. SPECTRE is produced by Michael G Wilson and Barbara Broccoli, from a script by John Logan and Neal Purvis & Robert Wade.

"We are thrilled to once again partner with IMAX for the next installment in the James Bond franchise. This is a spectacular way to deliver a film as anticipated as SPECTRE to global audiences," said Gary Barber, Chairman and Chief Executive Officer, MGM.

"After the record breaking global success of Skyfall, we're thrilled to bring the next chapter in this legendary franchise to fans in 2015," said Greg Foster, Senior Executive Vice President, IMAX Corp. and CEO of IMAX Entertainment. "We look forward to working again with our friends and partners at MGM and Sony Pictures Entertainment, as well as Michael G. Wilson, Barbara Broccoli and Sam Mendes, to present their latest Bond picture in the epic way that only the IMAX Experience can deliver."
Rory Bruer, president, Worldwide Distribution for Sony Pictures, said, "Everyone around the world loves James Bond and SPECTRE is one of the most highly anticipated films of 2015. The perfect complement to Bond is IMAX – it's exciting to know that Bond will once again be taking his place on the IMAX screen, reinforcing SPECTRE as the movie event of the fall."

The IMAX release of SPECTRE will be digitally re-mastered into the image and sound quality of The IMAX Experience® with proprietary IMAX DMR® (Digital Re-mastering) technology. The crystal-clear images, coupled with IMAX's customized theatre geometry and powerful digital audio, create a unique environment that will make audiences feel as if they are in the movie.
20 March 2015

SPECTRE shooting moves to Mexico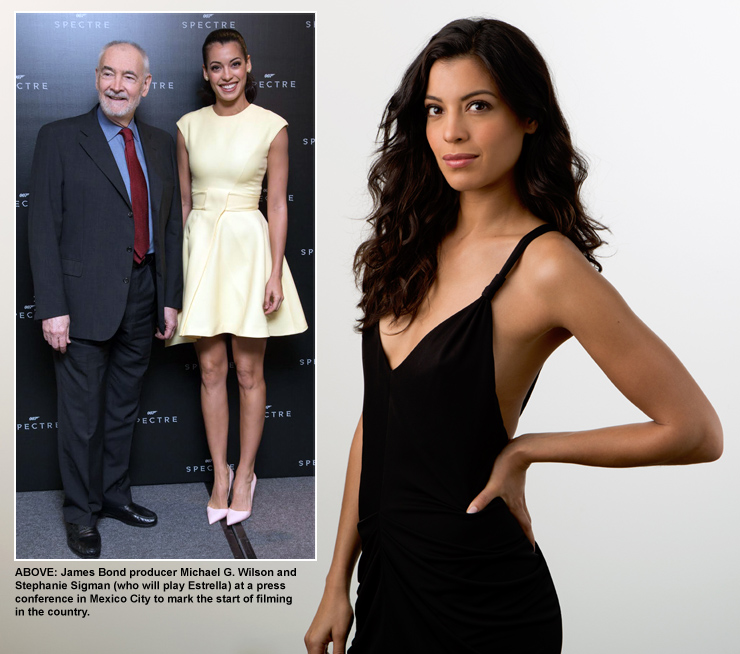 Filming on SPECTRE has now moved to Mexico City with Producer Michael G. Wilson and actress Stephanie Sigman (Estrella) taking part in a press conference to mark the occasion.
"During the past 53 years, the James Bond movies have been renowned for filming in the most beautiful and exotic locations in the world," says Producers Michael G. Wilson and Barbara Broccoli. "For the opening of SPECTRE, we are filming an exciting sequence in Mexico City featuring the Day of the Dead festival. Mexico City was chosen for the film because of the authentic needs of the story. This is the fourth time Bond has been to Mexico and indeed Licence To Kill was shot almost entirely in Mexico City."
17 March 2015

SPECTRE Teaser poster released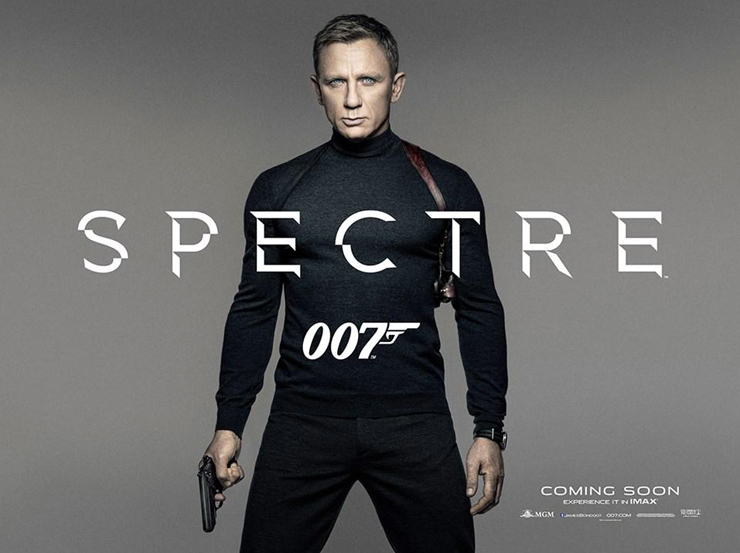 The official teaser poster for SPECTRE was released today. The film is at cinemas from 6 November 2015. The first trailer will be released on 28 March 2015.
28 February 2015

Director Sam Mendes discusses SPECTRE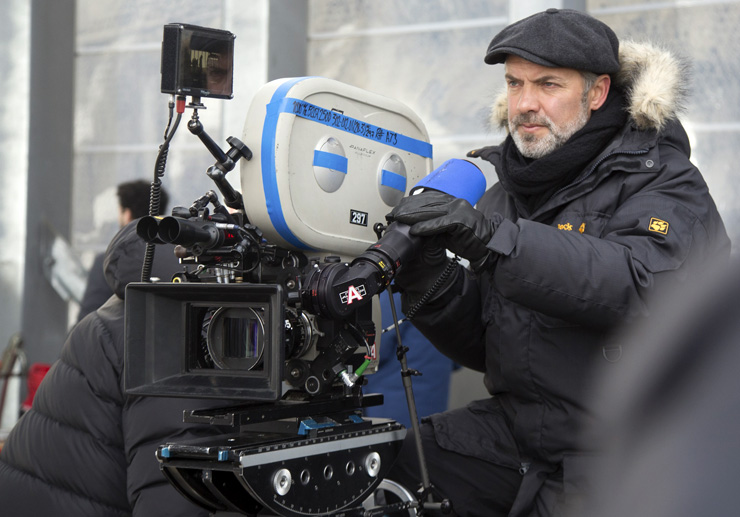 The latest behind-the-scenes footage from the set of SPECTRE focuses on Director Sam Mendes and includes Daniel Craig as James Bond, Ralph Fiennes as M, Naomie Harris as Eve Moneypenny and Ben Whishaw as Q.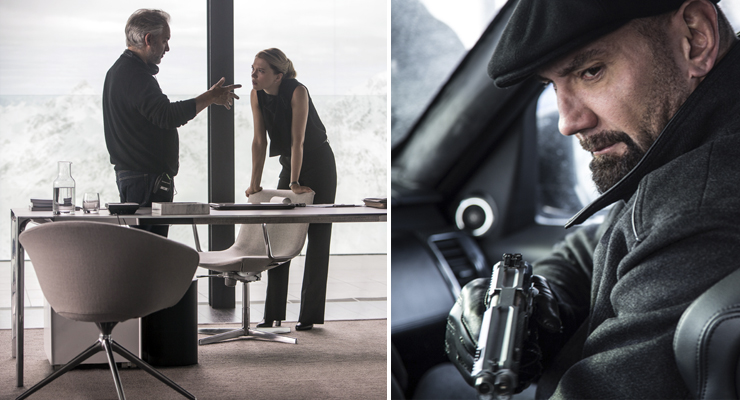 ABOVE: (left) Sam Mendes directs Léa Seydoux on location in Austria (right) A first look at Dave Bautista in character as Hinx.
18 February 2015

SPECTRE begins shooting in Rome
SPECTRE MOVES TO ROME
Daniel Craig (James Bond) and Monica Bellucci (Lucia Sciarra) were photographed in Rome overlooking the Forum as filming on SPECTRE moves to the Italian capital.

Locations for SPECTRE have so far included London and Sölden, Obertilliach and Lake Altaussee in Austria.
14 February 2015

First look photo and behind-the-scenes footage
from the location filming of SPECTRE in Austria
The first footage from the set of SPECTRE has been released, alongside an exclusive image of James Bond (Daniel Craig) in action in the Austrian mountains.
"We have to deliver an amazing sequence and this is going to be one of the major action sequences of the movie," explains Associate Producer Gregg Wilson. "It's going to be spectacular and Austria seemed to offer everything that we needed to pull it off."
The behind the scenes footage includes Daniel Craig as James Bond 007, Léa Seydoux, Dave Bautista and director Sam Mendes. "The thing Sam and I talked about was how we are going to top Skyfall", says Production Designer Dennis Gassner. "We are going to continue the history of the Bond films, making things that are exciting for the audience to look at and what could be more exciting than to be on top of the world."
14 December 2014

Location shooting for SPECTRE moves to Austria
Daniel Craig (James Bond), Léa Seydoux (Madeleine Swann) and Dave Bautista (Hinx) pose for photographs in the Austrian ski resort of Sölden for SPECTRE.

Other Austrian locations for SPECTRE include Obertilliach and Lake Altaussee.
14 December 2014

EON Productions issue official statement regarding
leaked SPECTRE script following SONY Pictures hack
EON PRODUCTIONS, the producers of the James Bond films, learned this morning that an early version of the screenplay for the new Bond film SPECTRE is amongst the material stolen and illegally made public by hackers who infiltrated the Sony Pictures Entertainment computer system.

Eon Productions is concerned that third parties who have received the stolen screenplay may seek to publish it or its contents.

The screenplay for SPECTRE is the confidential information of Metro-Goldwyn-Mayer Studios and Danjaq, LLC, and is protected by the laws of copyright in the United Kingdom and around the world. It may not (in whole or in part) be published, reproduced, disseminated or otherwise utilised by anyone who obtains a copy of it. Metro-Goldwyn Mayer Studios and Danjaq LLC will take all necessary steps to protect their rights against the persons who stole the screenplay, and against anyone who makes infringing uses of it or attempts to take commercial advantage of confidential property it knows to be stolen.
4 December 2014

SPECTRE is the new James Bond film!
James Bond Producers, Michael G. Wilson and Barbara Broccoli today released the title of the 24th James Bond adventure, SPECTRE. The film, from Albert R. Broccoli's EON Productions, Metro-Goldwyn-Mayer Studios, and Sony Pictures Entertainment, is directed by Sam Mendes and stars Daniel Craig, who returns for his fourth film as Ian Fleming's James Bond 007.

SPECTRE begins principal photography on Monday, December 8 2014, and is set for global release on November 6 2015.
11 July 2013

Sam Mendes returns to direct BOND 24