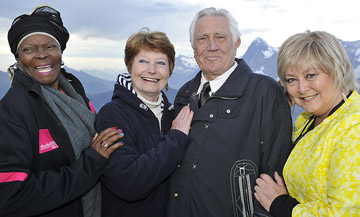 Sylvana Henriques, Catherina von Schell, George Lazenby and Jenny Hanley attented the opening of 007 WALK OF FAME.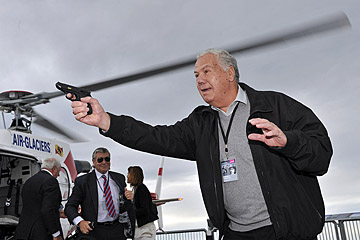 Terry Mountain on a mountaintop! Terry 're-enacts' his assault on Piz Gloria.
31 July 2015 - Schilthorn, Switzerland

The Schilthorn was the film location during the production of the James Bond film On Her Majesty's Secret Service in the winter season 1968/69. The revolving restaurant served as the mountain headquarters of the villain Blofeld and was duly named 'Piz Gloria' in the film's honour.
The world's first 007 WALK OF FAME honours the stars in front of and behind the cameras during the filming of On Her Majesty's Secret Service. Other celebrities from the world of James Bond 007 will also find their place on the Schilthorn.
Impressions from these celebrities will live on forever: An information board will include their photo, signature and their handprint in steel as well as a personal message. It will also describe the importance of the film to their career and their memories from their time on the Schilthorn. The panels form the 007 WALK OF FAME on the Schilthorn summit, a unique tribute to the legendary James Bond films.
Present at the VIP opening were George Lazenby (James Bond 007), Terence Mountain (Raphael), Sylvana Henriques (The Jamaican Girl), Jenny Hanley (The Irish Girl), Catherina von Schell (Nancy), John Glen (2nd unit director/Editor) and Stefan Zürcher (Production Manager). The Public Opening of the 007 WALK OF FAME took place at the Schilthorn summit on Saturday 1 August 2015.