Wing Commander Kenneth Horatio Wallis MBE, DEng (hc), Ph.D (hc), CEng, FRAeS, FSETP, FlnsTA(hc), RAF (Ret'd).
26th April 1916 – 1st September 2013

I first met Wing Commander Ken Wallis at the first James Bond convention I was involved with in 1981, and it was clear to see that fans idolised him and his marvellous creation, 'Little Nellie', and every appearance they made together was always met with the same fondness and warmth – you always smiled when you saw Ken! I last saw him at the press opening of the 'Bond In Motion' exhibition at Beaulieu in January 2012, where I was very pleased that my son Adam-John had the opportunity to meet him too. Across those 32 years I was lucky enough, and honoured, to spend time with Ken at a number of various events I produced at Pinewood Studios from 1990 to 1998 (and at the 1996 The Paris Motor Show), and like dear Desmond Llewelyn, Ken supported our 007 events from the beginning and would continue to do so through the Nineties, until I retired from event producing in 1999.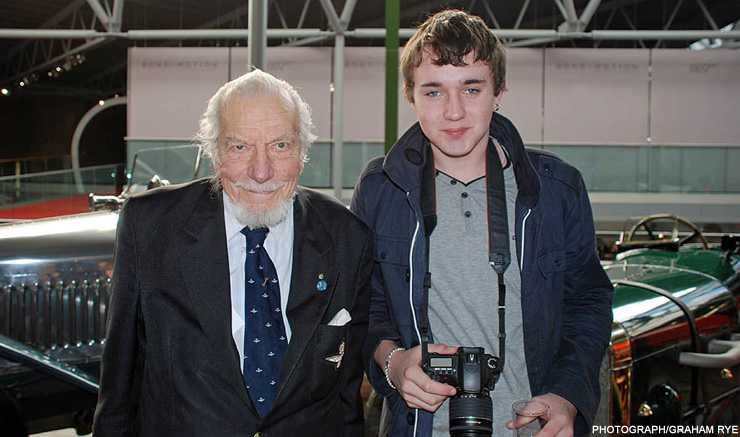 ABOVE: Wing Commander Ken Wallis [Autogyro designer and pilot of 'Little Nellie' in You Only Live Twice (1967)] with Adam-John Page-Smith at the BOND IN MOTION exhibition at the National Motor Museum, Beaulieu.
Later I would correspond with Ken by letter and telephone; chatting with him again a few months ago about his time filming the aerial sequences with 'Little Nellie' for 1967's You Only Live Twice, there was always something new and interesting he would divulge about the filming, and his memory was razor sharp – I could have listened to him for hours!
Having been on our complimentary list to receive each new copy of 007 MAGAZINE as it was published since the 1980s, Ken never failed to write me a letter in response with his comments about each publication and he usually enclosed more snippets of information regarding his exploits filming You Only Live Twice in Japan and Almeria, Spain. I shall miss those letters. It is my eternal regret that I never made time to take up Ken's 'open invitation' to visit him at Reymerston Hall.
Ken was so much more than the 'stunt pilot' and creator of the autogyro 'Little Nellie', his life was a full and rich one and his contribution to British aviation with his unique development of the autogyro aircraft was without equal - Britain has lost one of its greatest sons, and we are all the worse for his passing.

I would urge you to read his fascinating life story, The Lives of Ken Wallis – Engineer and Aviator Extraordinaire by Ian Hancock (278 pages featuring 132 photographs). For further details please visit: http://www.kenwallisautogyro.com

Also the excellent DVD: Ken Wallis - Born To Bond

Graham Rye
Editor & Publisher
007 MAGAZINE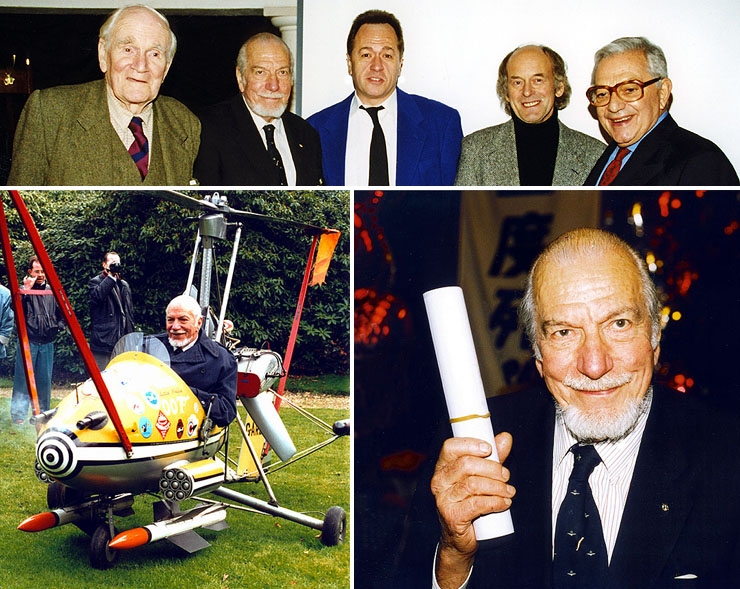 ABOVE: (top) [L-R] Desmond Llewelyn, Wing Commander Ken Wallis, 007 MAGAZINE Editor & Publisher Graham Rye, Goldfinger's Oscar-winning sound designer Norman Wanstall and seven-time 007 production designer Ken Adam at 'The James Bond 007 International Fan Club 6th Annual Lunch' (You Only Live Twice theme) at Pinewood Studios - 21 November 1998. (bottom left) Ken Wallis demonstrates 'Little Nellie's machine guns in the Pinewood gardens at the same event. (bottom right) Wing Commander Kenneth Horatio Wallis MBE, DEng (hc), Ph.D (hc), CEng, FRAeS, FSETP, FlnsTA(hc), RAF (Ret'd) [1916 - 2013].