Congratulations Martine - both your Bond films were voted into the top five positions in the 007 MAGAZINE readers' 50th anniversary poll.
Really? Gosh!

Thunderball was number five and From Russia With Love was number three!
What was number one?

On Her Majesty's Secret Service!
Wow! What was number two?

Goldfinger. I was a bit disappointed because personally I much prefer From Russia With Love!
Me too! And not just because I was in it but because I like the film better! How interesting! I'm amazed On Her Majesty's Secret Service was top. Lazenby was pretty good, but he wasn't Connery!

So, what would your favourite Bond movie be and why?
I probably would have put Dr. No top, purely because it was the first one and it was so amazing and interesting and I loved Ursula in it. Her and Sean together were amazing. I would have put From Russia With Love second, Thunderball at three, Goldfinger at four and probably one of Pierce's at five, maybe GoldenEye at number five.

Why do you think From Russia With Love is so popular among 007 MAGAZINE readers and other Bond fans?
I think the characters were really strong in it. Really strong! I mean Rosa Klebb [Lotte Lenya] was fantastic and then there was Robert Shaw! The whole film was really interesting, but for me the key to the film was that incredible scene on the train between Sean and Robert, playing cat and mouse! It was brilliant cinematically - there wasn't any CGI, there weren't any tricks, it was just two guys at it, playing with each other! I also loved it because there was not a lot of dialogue. It was action-packed, it was psychological and it was terrific. I loved that scene.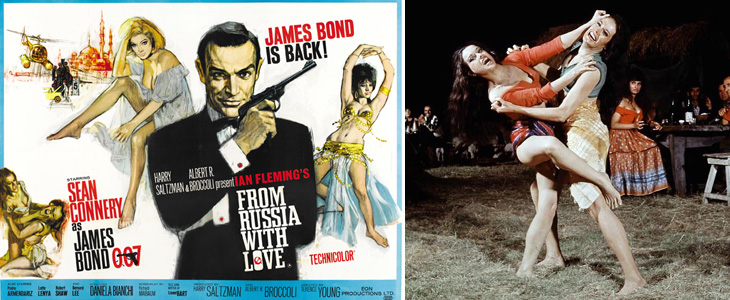 What would your favourite memory be of working on From Russia With Love?
Well, first of all there was the disappointment of not going to Turkey! [Martine's scenes were filmed on the Pinewood Studios backlot] But I thought my fight [with fellow Bond girl Aliza Gur] went really well. I loved the fact they used a lot of handheld camera, that was great. Because we'd rehearsed so much and for so long they were able to come in really close on the two of us, which made it really exciting! It was probably one of the first 'women battling it out half naked' scenes in the movies! It was really a very good scene and I loved doing it! It was my first fight and my first major film! From Russia With Love was interesting too because it was my first meeting with Sean, when we were doing some publicity shots, and that really set up our friendship and relationship. So when we went on to do Thunderball together it was mischief time! I didn't feel overwhelmed by him - I just thought he was a really cool guy I could play with!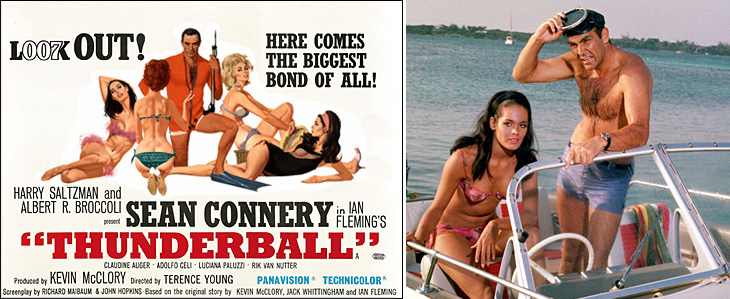 You're in a very select group to be involved in two of the top five films in our poll. How does it feel to have been in two films that were so popular and remain so iconic?
You know, I keep getting surprised by it all! I was recently invited to Cannes to open a From Russia With Love screening and when they invited me, I thought: 'why me?' I mean there are a whole lot of other Bond girls who are seriously major! Jane Seymour, Grace Jones, Ursula Andress - all these amazing women and I thought it was so odd: why me? I wasn't the number one Bond girl I was like number three in Thunderball and just one of the girls in From Russia With Love. So I'm always amazed by it - so amazed! I really do not get it! There I was on the red carpet in Cannes - getting soaked, there was dreadful rain! - with the new girl Bérénice Marlohe, who's just lovely, absolutely lovely. We marched up and down, holding hands and hugging in front of the cameras and I kept thinking: 'this is so amazing!' First of all, I'd never done the red carpet at Cannes and then I was thinking: 'why am I doing this when there's so many other amazing women that could or should be doing it!' It's very interesting to meet people, fans, who say: 'you're my favourite Bond girl' because I think: 'really?' Yes, I know I was the first girl to be in two Bonds, but as I talk to you right now my eyes are popping out and my jaw is on the floor! It's amazing!

You deserve it Martine! Thanks for speaking to us. You have given the fans a lot of pleasure and your two Bond films have too. I'm delighted they've done so well in our poll.
Me too, it's very exciting!