Congratulations Luciana - Thunderball was voted number 5 in 007 MAGAZINE readers' 50th anniversary poll. Why do you think Bond fans love the film so much?
"I think it's because it was an easy story to follow. It wasn't over gimmicky. I watched it for the first time in I don't know how many years recently when I was in my house in Mexico and some friends of mine said: "We want to see it! We want to see it again!" And I sat through it for a while and I said: "Look at the special effects from all those years ago, today they would do more, more, more!" But I really think that, not just Thunderball but all the first few Bond pictures were easy to follow. You knew who the bad guys were and who the good guys were, they weren't complicated. Although my own favourite one is actually From Russia With Love!
Why do you like From Russia With Love so much?
It was a great story. I thought the first one [Dr. No] was too simple, but as soon as they had success and they could spend a little bit of money… I also loved the train sequence. I just thought that it was a great movie. But then I loved all of Terence Young's films. I was very partial to Terence's direction, I must say!

Having watched Thunderball recently, what would you pick out as your favourite scene or sequence in the film?
Hmmm! Oh God! That's difficult! You know, because my husband fell in love with me because of this scene, I would say the scene where I throw the motorcycle down into the water, then I take off my helmet. My husband years later said to me: "When I saw you in that scene, I thought: 'this is the woman for me!'" And now we've been married 33 years, so I have to be partial to that scene!

You didn't like the motorbike much either did you? Were you glad to get rid of it?
Well, yes because after half an hour or so of lessons I mixed up the accelerator with the brake and had an accident where I flew into a wall and got yelled at by Terence!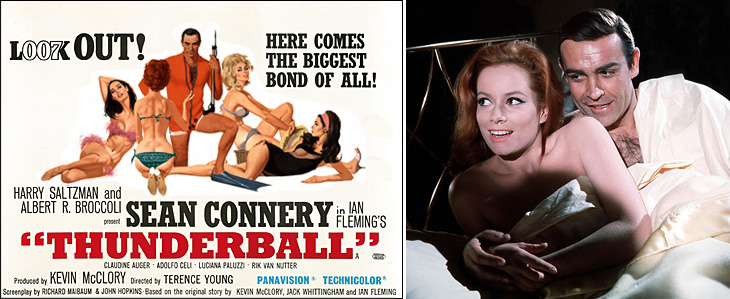 So how does it feel to have been in a film that is such a significant part of Bond and film history? A film that is still so loved?
You know, for a period, when Thunderball came out they said it had made more money than any other Bond film, if you translated the price of the tickets. Can you verify that?

Absolutely, on ticket sales and taking inflation into account, Thunderball is number 1 by a long way.
So they were right when they told me that! Well, now I'm really upset that it wasn't number one [in the poll]! [laughs]. How many Bond movies have been made? 21? 22? I want to know who came ahead of us!
OHMSS was voted number one!
Which one was that?

The 1969 007 film starring George Lazenby as James Bond.
Are you serious? And some people used to say he was the worst Bond. He must be so happy!

What is your happiest memory from working on Thunderball?
It's very tough to come up with just one moment, but I think the whole atmosphere when we were shooting. It was always such fun. I never made another movie like that where nobody was upset, where everybody got along. All the movies I made before and after, never was I in a situation where people were so relaxed and happy. And Terence, of course, made it so easy for all of us. Being on the set was like being in a movie within a movie - on the set at night with dinner under candlelight! One moment in particular though was the telephone call when they told me I was going to be Fiona. I was at my happiest when I got that news. I remember exactly where I was sitting in my attic in Rome, looking over St. Peter's. That was my happiest moment. And after that everything else was such a breeze!


Thank you Luciana, and congratulations again on being part of one of the favourite five Bond movies of 007 MAGAZINE readers!
Thank you! I can't wait to see the next copy of 007 MAGAZINE.